3TSOFT - ACCOUNTING SOFTWARE FREE
3TSoft accounting software with many advanced features suitable for all businesses. Help users solved arise accounting profession, manage and aggregate multiple data base, unlimited number of users, number of extensions with a synchronized database.
With a simple interface, easy to use, even people who do not have accounting operations are also easy to use. Please download 3TSoft about computers to experience the useful features that this software offers.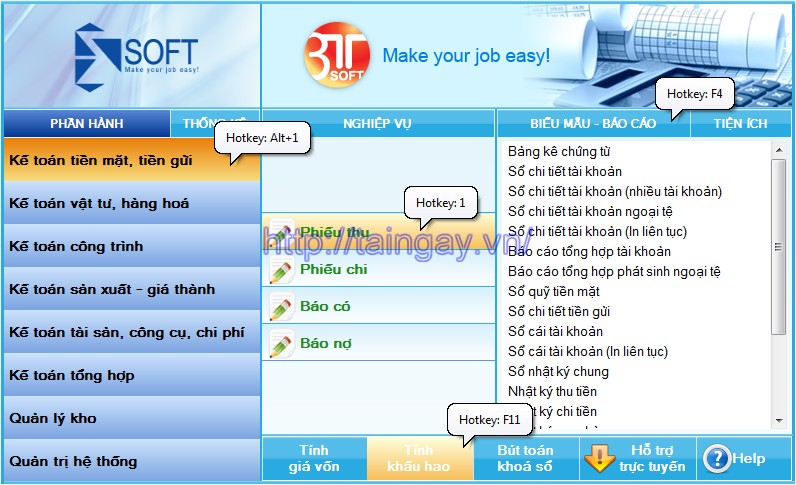 Download 3TSoft - free accounting software.
SOME KEY FEATURES OF 3TSOFT
Deposit cash accounting: Manage receipts and expenditures; reported debt, have ...
Accounting supplies and goods: Managing the stock type to import, export; bill of sale...
Accounting works: direct allocation coefficient ratio; entry or the materials ...
Accounting production - price: Importing the materials; vouchers, cost allocation ...
Accounting assets, tools, cost: Register, edit assets; registration, repair tools, cost ...
Accountants: accounting bills; closeout documents ...
Inventory Management: Entry Form, ex-warehouse; which deliver votes ...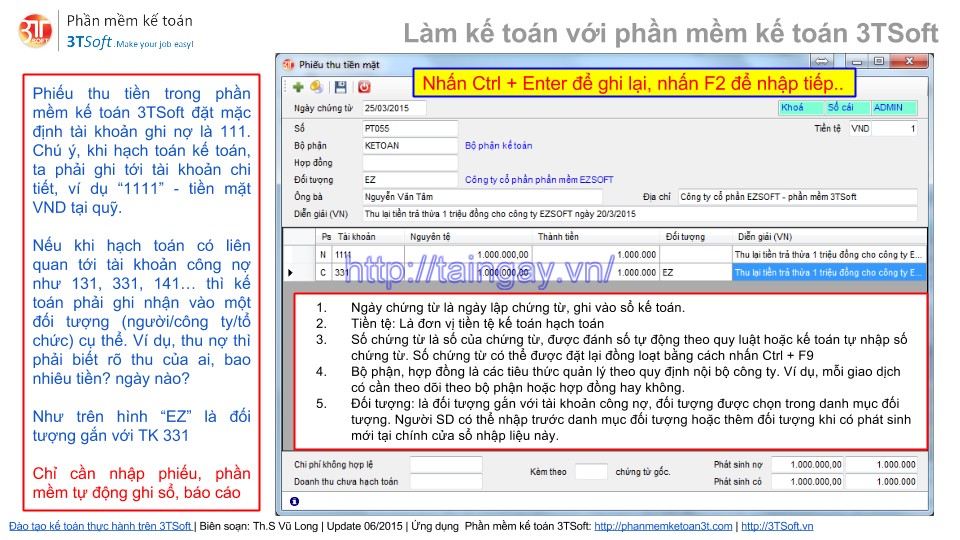 THE UTILITY IS IN THE PROCESS OF USING 3TSOFT
Calculator, identify complex costs quickly.
Data Management System intelligent filter and analyze data.
Stars move data between Excel handy 2D and 3TSoft.
Management and control of debt in the payment time limits and allowed values.
Examination of the right of the relevant tax code, filtering, updating the tax code fled.
Manage, track inventory, debt objects, assets, tools with detailed information and pictures as well as features such as expiry date, batch management, according to the warehouse shelves.
Automatic data backup in any time period due to accounting manager set
Data transmission via LAN, VPN, email systems or E-office.
Integrated software HTKK tax, allowing transfer of data from software to HTKK.
Manual detailed in the video accompanying the product or website.
Retrieval, consultation, and the results of multidimensional data, the ability to search for intelligent, optimized.
Full tables system, exactly according to Decision 15/2006 / QD-BTC or Decision 48/2006 / QD-BTC of the Ministry of Finance on the accounting regime for business.
There were over 8,000 customers use the software to date, they are the source of information useful suggestions help we improve, constantly improve and upgrade the software in time.
The program is stable, fast processing speed, database SQL.
Hardware requirements:
Processor (CPU): Intel Pentium III or higher 1GB.
Memory (RAM): 512 MB ??or more.
Hard disk: 1 GB or more empty.
Display: 1024x768 resolution or better.
Sound card, speakers (used to view video tutorial).