Found 2 application with keyword yahoo Vietnamese....

Publisher: Yahoo
Yahoo! Messenger (Vietnamese), Yahoo Messenger Version 11.5 last Vietnamese are additional attractive features: Support save and view chat history, conversations on all computers, Chat with friends on Facebook, ...
Version: 11.5
Capacity: 18,6 MB
Request: Windows XP/Server/Vista/Windows 8/Windows 7
Search More: yahoo, yahoo download
FREE

Free

1,962

downloads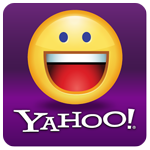 Publisher: Yahoo
Yahoo! Messenger ( Vietnamese ) , After a long time trials , Yahoo has officially launched Yahoo Messenger chat software version 9.0 with some additional features quite worthwhile ...
Using Google for Searching...