FREE MP3 FINDER FOR WINDOWS PHONE - DOWNLOAD FREE MP3 MUSIC FOR WINDOWS PHONE
Free Mp3 Finder for Windows Phone offers users a search engine MP3 rich, convenient and free on Windows Phone devices.
Free Mp3 Finder for Windows Phone is the easiest method to download unlimited music and free , directly to the music library system. We can say Free Mp3 Finder for Windows Phone is the only MP3 download allows users to choose album art, so you never feel bored while enjoying the music library with a monotonous gray.
Free Mp3 Finder version for Windows Phone free show only the first 5 MP3 songs per search and with the advertisement.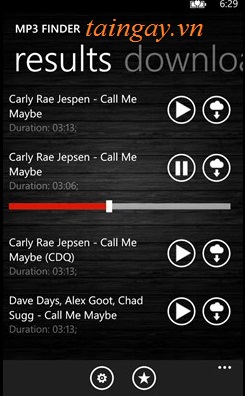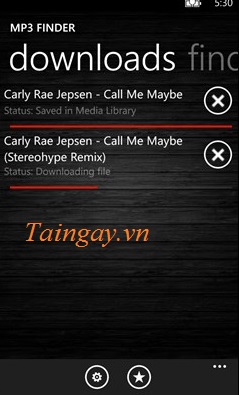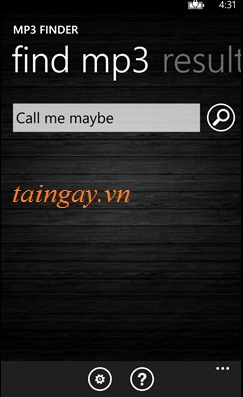 Free mp3 music downloads to phone
WITH FREE MP3 FINDER FOR WINDOWS PHONE YOU CAN:
Search and download music directly to music and video library system.
Listen to music before you decide to download (operations performed on the desktop).
See the total number of songs you've heard is in the buffer zone (if the song is flipped 100% instant they are saved in the multimedia library system).
Scroll down to the section of the song has been flipped.
Download Desktop (for songs not in the buffer zone of 100%).
Edit ID3 tags before saving the music in a multimedia library system.
Set up album art and wallpapers for downloading music.
EXTENDED FEATURES:
Users can enjoy free music through Nokia ringtone generator.
Downloading music files to Mp3 Finder could be played with any media player installed on the device.
You can see MP3 files by connecting the device to a computer.
Publisher does not require any personal information.
NOTE TO USERS:
Host MP3 files is controlled by 3rd party publishers and applications for Windows Phone Free Mp3 Finder is not affiliated with them in any shape or form.
All rights on the tracks are the property of the owner really.
NEW FEATURES IN VERSION 2.3.0.0:
Fixed some minor bugs of the previous version.
Outside Latin characters are displayed correctly.
Additional editing features album art.
Fixed a bug with the application crashes due to low memory.