TO INTRODUCE
Chinese Chess is a strategy game on a chessboard high intellectual nature for two players, is a popular type of chess in our country with tactical gameplay, entertaining board games like chess practice.
The game represents the battle between the two armies, the ultimate goal is to catch enemy army generals. Featuring chess as military forces faced artillery to jump directly to captured enemy troops; two generals not be located opposite the military without any cover in front; some areas on the chessboard called rivers and limited supply of some military steps; pieces are placed on the intersections of the lines on the board instead of in the cell.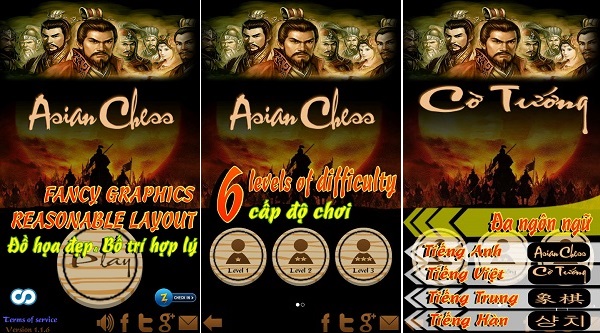 THE MAIN FUNCTION OF THE GAME XIANGQI:
Support 6 levels from easy to difficult games.
Support multi-languages: English, Vietnamese, Chinese, Korean.
Intelligent algorithms.
Display multiple screen sizes.
Beautiful graphical interface, reasonable layout.
Achieving these achievements while playing through Scoreloop.