Zalo were familiar with the youth in Vietnam, it is considered the second most popular in Vietnam after facebook messenger. When used Zalo make friends, messaging, call free chat, Zalo for computers, laptops and Zalo versions for iPhone, Android, WinPhone. With features free messaging, free phone calls, join friends, join chat rooms, friends, ... Zalo online community truly love and good reviews. An application that you can not ignore your mobile phone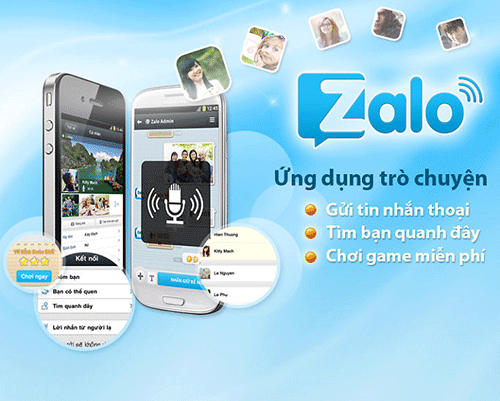 Zalo for Android lets you can send text and voice messaging, gaming entertainment with friends, share photos to show personality with unique effects. Additionally, you can also send multimedia messages (picture sleeve, warehouse emoticon fun activities ...), sharing your location to find a new one.

Update Zalo or download free Zalo to experience all the latest features from Zalo chat for Android include: texting and calling super fast with animation, emo fun, express emotions with voice message with extremely high sound quality, huddle up to 50 people, integrated social network Facebook, find friends and connect with new people find you through features and special around here you do not have to waste any any expenses. Also, do not forget to download Zalo on the computer and keep in touch with friends even without holding the phone.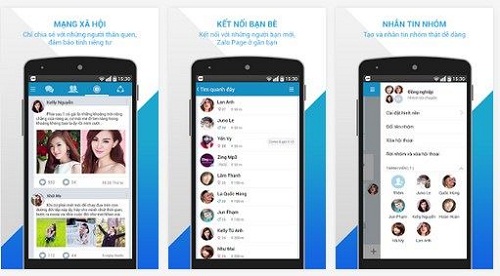 Some key features of Zalo that you can not ignore:
Voice Messaging
• Talk and send messages without having to keystroke.
• Allows sending voice messages up to 5 minute / message.
• You also can walk and talk at anytime, anywhere. Send Message Real-Time • Status messages received and sent messages. • Send message superfast absolutely free. Archive, share moments • Record the most significant moments of your diary page. Huddle • Zalo lets you can create and join chat groups, share information with friends, colleagues and family easily most comfortable. • Chat and make friends at the same time 50 other members of the group. Find and connect with friends around • Find friends around you the most accurate way. • Zalo integrated friends list with the list your contacts. Entertainment • Play word guessing game draw wisdom. • Confident "challenged" with friends via Game "Melody of Fun". The symbol, feelings • Helps you could just talk and show an all his emotions through the collection of emoticons quite nicely from Zalo. • Show your feelings with emoticon and animations, sounds fun.