Found 1 application with keyword Hangouts....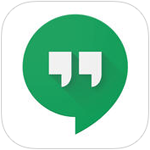 Publisher: Google
Hangouts for iOS , Hangouts app for iOS is free chat and video call , stable quality and convenience on the iPhone , iPad and iPod Touch . Hangouts is the new name of Google Talk - a touch of Google apps with similar features as the competition is Viber , Zalo , WhatsApp Messenger ,
FREE

Free

1,273

downloads
Using Google for Searching...