Found 1 application with keyword Prey iphone....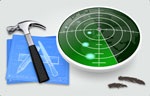 Publisher: Fork Ltd
Prey Anti - Theft for iPhone , Prey Anti - Theft is an open source , cross-platform on iPhone theft . Prey lets you keep track of all your devices easily everywhere.
FREE

Free

1,176

downloads
Using Google for Searching...