ANTIVIRUS SECURITY FOR ANDROID - ANDROID ANTIVIRUS APP
AVG Antivirus for Android is a free app helps users prevent viruses, malware and identity thieves do not attack on their Android phones. In addition, it is easy to use and operate on all platforms of the Android operating system from version 2.1 or higher.
In addition, the new wizard will allow you to access the main features of the app immediately and directly from your home screen.You can easily customize the 4 buttons on it from 9 different useful tools.
UPDATED FEATURES IN THE LATEST VERSION
Improved scan time
Change to match Android 5.0 (Lollipop)
Improved battery saving features
Fixed some minor bugs in the previous version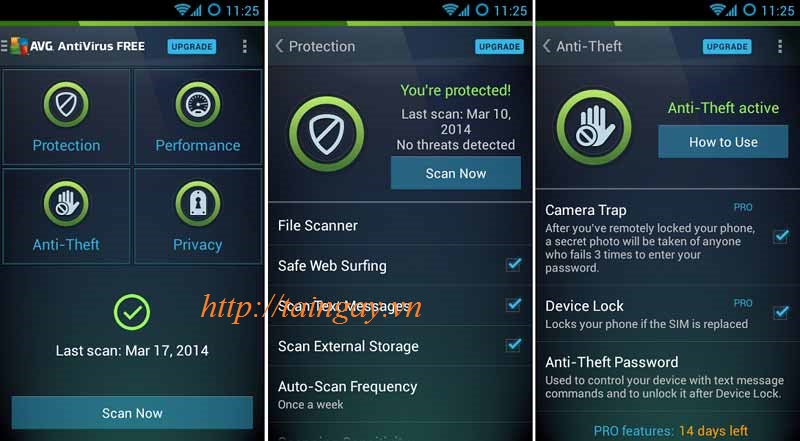 Effective anti-virus software for Android phones through
SOME KEY FEATURES OF THE APP:
Search and protect your phone if lost or theft
This software will help you to locate your phone, display a message on the screen to increase the chance to return, keep your personal data secure by locking or deleting it.
Phone Locator
This tool helps you locate your phone instantly via Google Maps by sending its location via GPS which can be activated from remote Anti-Theft service. You can also enable SHOUT to maximize the volume of ringtones and allow you to make a great ringtone even if phone is in "Silent". Ultimately, help you locate it easily.
Phone Locker
This useful tool will prevent other users access to your personal information by locking the device remotely via SMS or from the control buttons are controlled by Anti-Theft service. Besides, you can create a lock screen message customized with contact information to facilitate the return of their equipment safely.
Remote Wipe
This feature helps you maintain and protect their privacy if the phone is lost or stolen. It allows the user to delete all your contacts, photos, calendar and text messages, browsing history and SD card.
Keep your personal device and your most precious are safe
You can conduct phone calls, download music, video and applications as well as web surfing safe whether in anywhere.
App Scanner
This tool will scan the application to ensure that no malware or malicious may affect your device. It also allows you to launch a scan or schedule automatic daily or weekly.
File Scanner
This powerful tool will scan your phone for viruses and removing them with one click. It will protect you while you use your favorite applications, and ensure that your contacts, bookmarks, text messages, music and video are kept safe. It also allows the launch of a scan manually or automatically up to patronizing.
Settings Scanner
Thus, you are allowed to optimize their security settings to protect your phone at the maximum level.
Safe Web Surfing
This feature will be actively checking web pages in real time to detect problems before you visit it. If it detects something suspicious, it will prevent you not visit that site. Besides, this feature also protects you when clicking a link to the website and when I enter a web address directly in their browser.
Improved performance
Optimized battery performance and storage devices as well as monitoring the use of your data.
Improve Performance
Optimized battery, storage devices and the use of data on Android devices.
Task Killer
Off the applications that can affect the performance of the device.
Battery Consumption
You will get a warning when the battery is too low. Now, you can use Power Save button to turn off the functionality of the devices that consume a lot of battery capacity or use Auto Power Save to improve some features that consuming the battery automatically when the battery capacity reach a point where you install.
Using data
You can track data usage on devices with 3G / 4G by receiving notification when reached its limit monthly data usage.
Using storage devices
Uninstall the applications that you think will use a lot of space to free space on the device.
Block calls and messages
Call & Text Message Blocker not only alerts you to know the suspicious text messages but also allow filtering and blocking calls or unwanted messages.
More info about Security AntiVirus for Android
First, you proceed to donwload installations follow links provided above, apk file stored on your computer. (Or you can use the smartphone-based access to the download link above)
Use the connecting cable to transfer files to the memory card APK get on devices.
Activate APK file. A dialog box appears, click Intall to start the installation process.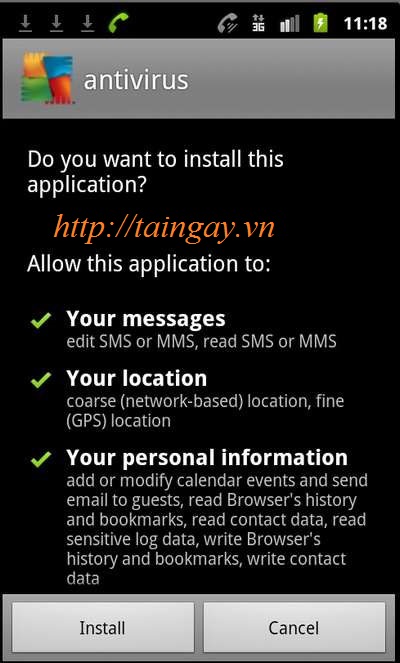 Click Done to complete the installation process. Software icon will appear on the menu of the smartphone.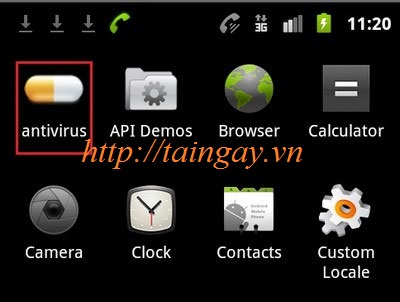 On first use, press Accept to confirm that allows software scans files and protect data on the device.