AVIRA ANTIVIRUS SECURITY FOR ANDROID - SECURITY SOFTWARE FOR ANDROID
Avira Antivirus Security for Android is a data security application for Android individual effectiveness.
NEW FEATURES IN VERSION 3.7 UPDATE:
No account registration required to use Avira Antivirus Security.
Improved user interface.
Fixed some bugs of the previous version.
Normally, your Android contains a lot of sensitive information such as phone book, messages, photos, password ... When you are not holding the phone in hand, the leakage of personal information is entirely may occur.
Avira Antivirus Security thus acts as a complete set of tools to make it impossible for illegal access , support you find the phone is lost and cut off all calls / messages unwanted.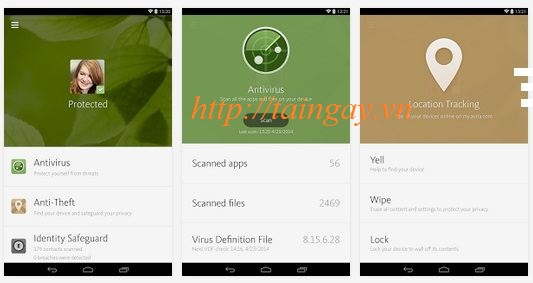 Anti-virus software for android efficiency
MAIN FEATURES OF AVIRA ANTIVIRUS SECURITY APP FOR ANDROID:
Optimal protection malicious applications, equipment theft and unwanted calls
Probe or remotely locate your smartphone or tablet users.
Scan the entire application with advanced antivirus technology licensed by AV-Test.org.
Lock or cancel the data from your device to ensure absolute privacy.
Blocking contacts bothered by calls or text messages.
According to the user, many other security applications are also capable of protecting safety equipment, but not quite as Avira Antivirus Security optimization. This app is suitable for users who have a habit of storing confidential data on your mobile device.
You are using Avira Antivirus Security? Thus, your smartphone and your tablet is secure. Log on to the web console to manage security for personal mobile devices.
Protection against viruses
Detect, block and remove malicious applications.
Automatic scanning: scanning apps you install and update new versions.
On-demand scanning: scanning app anytime you want.
Optimal resource consumption: Updates Antivirus Definition anytime, anywhere.
Protection against theft
Tune locations: positioning of the phone or tablet on a Google map.
Remote lock: in case of lost or stolen devices, block access to your smartphone or tablet.
Destroy data remotely: remote wipe all the information on your Android device.
Remote alarm tone: tone switch automatically even when the device is in silent mode.
Notify owners: allowing people to find your phone or tablet to your locked report found the device by touching a button on the touchscreen.
Functions list Blacklist
Blacklist: blocking calls and text messages are unwanted.
Manage blacklist: block and unblock calls or SMS from any number.
View the report: receive activity reports from the contacts was sent to the blacklist.
Managing devices
Web Dashboard: provides instant overview of the security situation and the whole function is performed on the device.
5 devices: manage multiple devices from the web control panel.
Profile name and photo: mobile security organizations.
Security settings: tracking the phone's settings and tablets as well as information service providers.
Battery: Battery life test equipment remotely.
Languages ??supported: English, German, French, Italian.
Avira Antivirus Security supports smart phones and tablet manufacturers HTC, LG, Motorola, Samsung and Sony with screen sizes are often large, and extra large.