MAPS FOR ANDROID WIFI WADA - SOFTWARE CONNECTION AND USE THE FREE WIFI
Maps help Wada Wi-Fi users to connect and use the free Internet with wifi points than 1,500,000 worldwide. You do not need to worry about finding an Internet connection anymore to free pace of life of overwhelming information.
Usage is simple. Users simply open wifi connection and are within range of wifi spots aired in data warehousing, Internet connection will be automatically established without further action.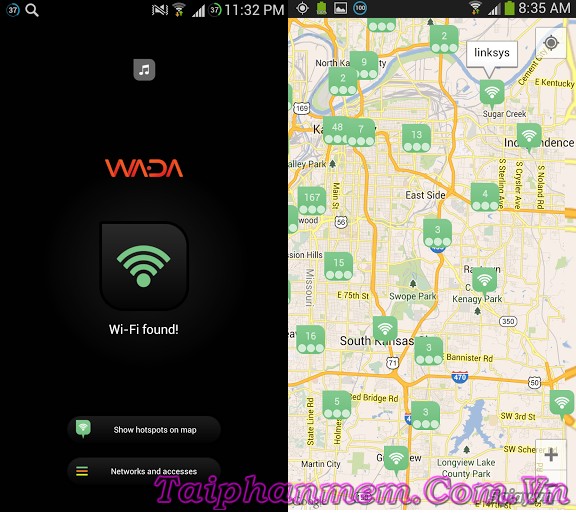 MAPS WIFI WADA WILL PERFORM THE FOLLOWING TASKS:
Automatic updates to the user point Wifi. Where have the password, they must first enter your password, if anywhere without the auto-access pass.
Wifi point does have pass that users install software WADA Maps Wi-Fi access, the people around also accessible through the password system was brought up earlier from people who know the password.
KEY FEATURES:
Automatic search, automatic wifi connection around you
Show all wifi connection point on the map
Easily find the nearest wifi via Google Maps
Search free wifi spot globally
Share point wifi on the world map
Display and update the information, assessment of locations wifi
NOTE:
This is not a hack wifi application. All data points are wifi user-supplied
Wifi point can take up to 24 hours to update
NEW FEATURES IN VERSION 2.1.11:
Share comments on Facebook
Remind write a comment for location