AUDACITY - AUDIO EDITING GADGET DIVERSITY
If you've ever used a microphone to record your voice using the computer, you can always record the noise with your audio files. Fortunately, there is a way to fix the problem this problem, and it will not cost you a dime with Audacity.
NEW IN VERSION 2.1.0 AUDACITY:
Improving the recording feature.
Supports voice recording, the sound of the song.
Supports recording from 16 channels at once.
Audacity is a free software that can be used to record voice or music, or to edit music tracks, sound mixing and also to clean up the problem recordings as background noise.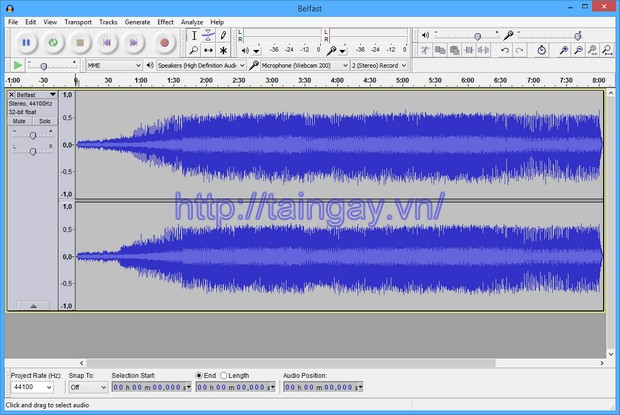 Download Audacity to record your voice easiest way.
THE MAIN FEATURES OF AUDACITY:
Recorded live:
This software can record directly from a microphone or a combination, or digitize recordings from cassette or minidisc disc.Also, for some soundcard, Audacity can record live streaming audio file again.
ADD Device Toolbar control multiple output devices and input.
Level meters volume control before, during and after the recording process.
Voice recording via microphone, input devices, USB devices / Firewire and a few other devices.
Recording on computers running Windows Vista and higher operating systems by choosing host Windows WASAPI in Device Toolbar bar then select the input device is loopback .
Supports Timer Record and Sound Activated Recording.
Pairing multiple tracks to create special recordings.
Select the host Windows WDM-KS and Audio to Buffer in the Preferences Recording to recording with low latency for devices Windows supports.
Recorded at up to 192,000 Hz (only applies when selecting appropriate hardware and host). 384,000 Hz speed compatible only with devices with high resolution (note that host Windows DirectSound restricted 200,000 Hz)
Recorded with 24 bit depth on Windows.
Recording multiple channels simultaneously.
Export and import the file:
This software allows the input audio file, edit and combine with other recordings or newer. Also, you can export recordings in various file formats.
Export and import files to WAV, AIFF, AU, FLAC, and Ogg Vorbis
Enter WAV or AIFF files on demand quickly.
Import and export all file formats supported by libsndfile eg GSM 6:10, 32-bit and 64-bit float WAV and U / A-Law.
Import MPEG audio files.
Enter the raw audio files using the command Import Raw .
Create WAV or AIFF files printable discs.
Export MP3 files.
Import and export file formats AC3, M4A / M4R (AAC) and WAV files.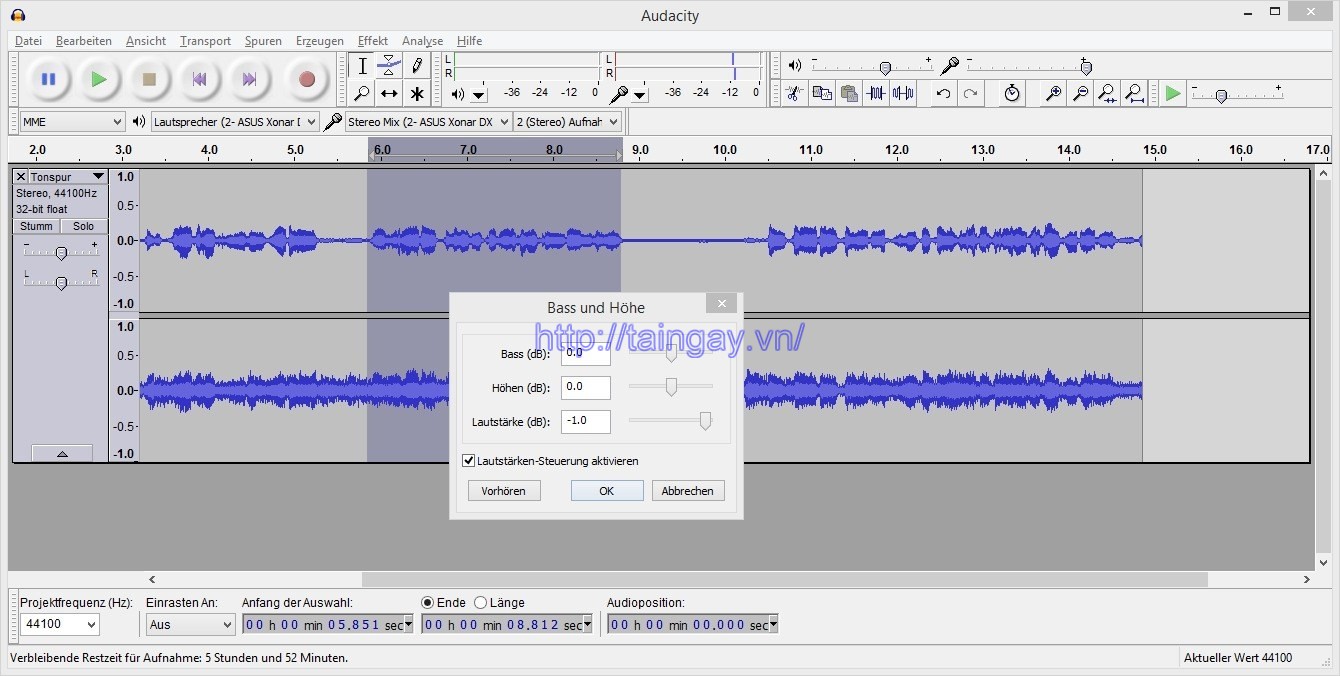 Sound quality control:
16-bit audio support, 24 bit, 32 bit.
Conversion rate and variable formats with high quality and harmony.
Automatic conversion at the same time a series of songs with different rate or format.
Edit the file:
The simple editing tools: cut, copy, paste and delete.
Supports back the previous operation.
Edit and mix of songs together.
Lets run multiple clips in a song.
Support for labeling features songs Sycn-Lock has selected to sync songs and labels.
Support the Drawing toolbar to change the separate point.
Support toolbar Envelope to decrease or increase the volume gradually.
Automatic recovery after decommissioning program abnormally.
Accessibility:
The songs and the collection can be customized using the keyboard.
Supports multiple key combinations.
Support JAWS, NVDA and other screen-reading software.
Affection:
Changing the high notes without affecting the pace of the song (or vice versa).
Removing the strange noises in the song.
Change the frequency with effects: Equalization, Bass and Treble, High / Low Pass and Notch Filter .
Adjust the volume with effects: Compressor , Amplify , Normalize , Fade In / Fade Out and Adjustable Fade .
Separating voice from stereo songs accordingly.
Voiced for podcasts or DJ sets by effects Auto Duck .
Other effects:

Echo
Paulstretch (extreme stretch)
Phaser
Reverb
Reverse
Truncate Silence
Wahwah

Running effect chain in multiple songs using the mode Batch Processing .
Plug-in:
Support for plug-in effects LADSPA , Nyquist , VST and Audio Unit .
Effect written in Nyquist programming language that can be easily modified in the editor or the user can write their own plug-ins.
Analysis:
The view spectrogram to display frequency.
Command Plot Spectrum to analyze frequency detail.
Features Sample Data Export to export the file containing the amplitude values ??for each sample is selected.
Support for additional plug-in analyzes the vamp .
MANUAL AUDACITY:
To use Audacity, you must first download and install Audacity on your computer. Then upload your recording by selecting Filefrom the main menu, then select Import -> Audio ...
Select your recording by clicking double-clicking it, or by selecting it and then click Open . Once you have imported your recording, you will see a track in the main menu, which looks like this:
The lines on the track's waveform and it is important when cleaning a track. Look for some of the songs that is flat, as flat as possible. This will be a part of the music without sound other than ambient noise. Select a part of your song by clicking and dragging it along the length of the flat part fully as shown.
What you are doing here is to select a sample of your recording for this record and it Audacity follow will know what you're trying to accomplish. Next, choose Effect , then Noise Removal from the main menu.
You will get this popup:
Click Get Noise Profile .Cua popup window will disappear, bringing you back to the screen Audacity. This time, select the whole sound recording by pressing Ctrl-A on your keyboard:
Next, select Effect then Noise Removal from the main menu again, to again display this popup:
Go here often best to leave the defaults, and just click OK . Then, when it ends, you will find that Audacity has smooth matte part of your waveform:
To listen to your recordings sound like noise after cleaning, you click Play to see how the results offline:
Eliminate background noise is just one of the many features you can do with Audacity, to perform other features, you can simply explore some of the options on the main menu that you see.
More information about Audacity
REVIEW - REVIEW OF AUDACITY: SUPPORTS FREE AUDIO EDITING.
Generally, Audacity is a sound editing tool free best available , support your direct recording or editing audio from an existing file easier than ever.
ADVANTAGE:
Supports multiple formats.
Many special effects.
You can preview the effect.
Absolutely free.
DEFECT: