Game Empire - strategy game Age of EmpiresGame world famous.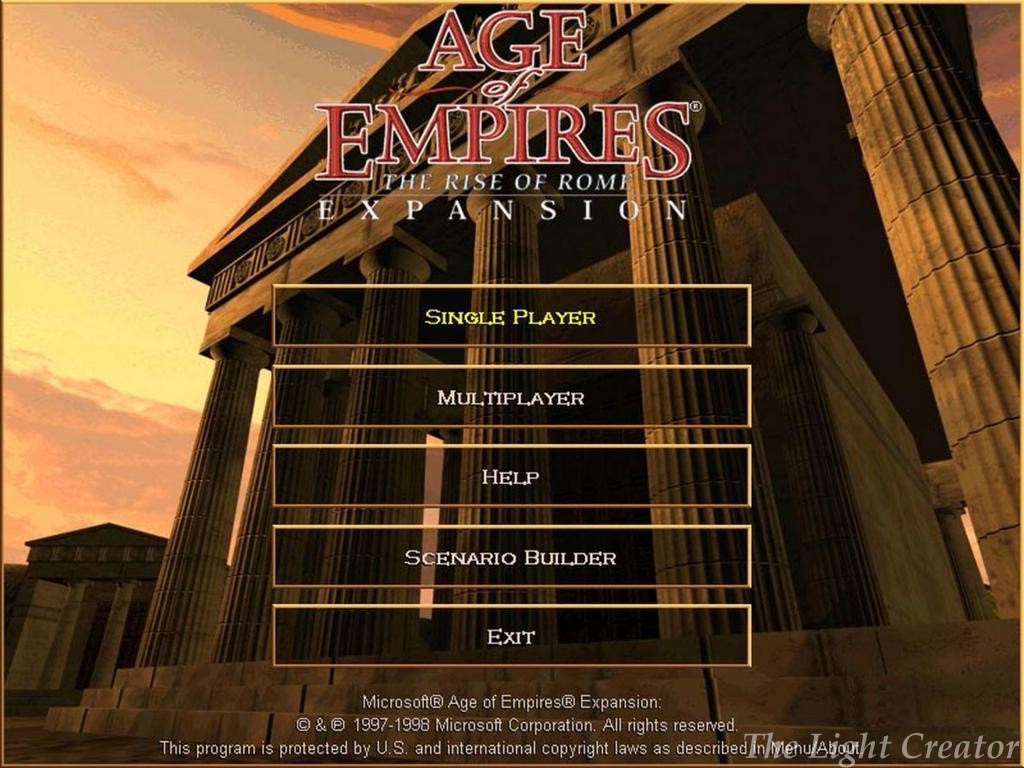 Game Age of Empires (AOE), also known as the Empire was born over a decade ago but still not less attractive for gamers.
Game Empire is one of the games best tactical team present Now, after much "a storm" game has been well received millions of gamers, game quality is classic tactical elements, interesting gameplay much surprise, the ability to fight super flexible.
Empire is one of pure invoking Vietnam, was founded in 1992 when the full name is the game Age of Empires, many gamers love well known names like AOE or AOE 1 quite ... whether such names no matter what it is still called gamers Vietnam Empire only. Until the moment the game empire is no longer common practice grow again, the final version has been refined manufacturer before making the gamer community.
In the game Age of Empires 1 gamers can play than worry or create teams compete with teams playing. There are up to 8 players in a game screen and split into two different teams. Besides that, players can play alone or with friends or computer players to create teams of 2 or 3 people linked together to crush the other players.
Game Empire Age of Empires are born from very long with 16 categories corresponding to the 16-nation military empire with numerous tactical gamers playing AOE is experiencing 4 different periods each time to life, from the Neolithic Stone Age to the era tools Tool Age and Bronze Bronze Age period, finally Iron Age.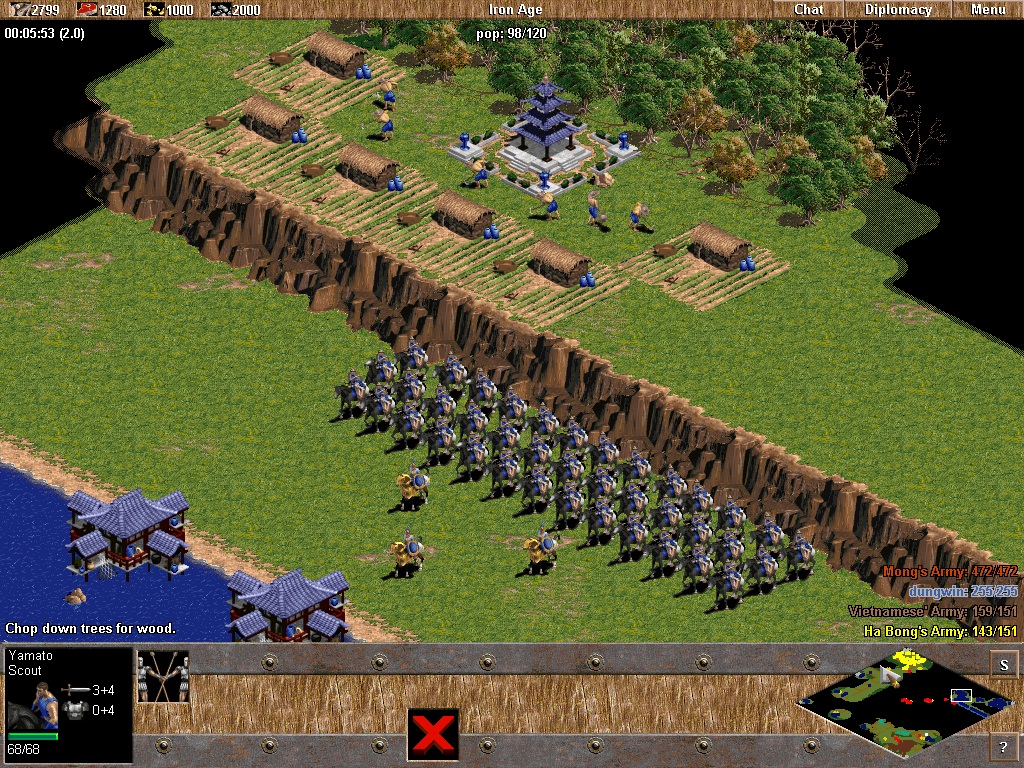 Game Empire have outstanding advantages as fortification system and the construction works are diverse, and range of skills and tasks extensive weapons system brings unexpected uses for the player. It is important to win the game is that each person needs to understand how to play and play basic sequence, set a fast and flexible manipulation
game has beautiful graphics interface, the picture appears quite lively and humor with diverse gameplay, multiplayer mode creates an Empire game has been attracting a lot of young people in recent times although the advent Game Empire has been for years
Features of some elements in the Age of Empires:
Works
Cheapest: Roman -15% of the cost (excluding walls and wonder), -50% watchtowers
most fortified Walls: Babylonian, Shang +50% HP (HP = blood)
most solidly Watchtower: is Babylonian + 50hp
most effective Watchtower: Choson +2 range (range = range)
fields poorest: -30% Persian reserves
most fertile fields: + 50% reserve Sumerian farmers Fastest Run: Assyrian, Yamato + 30% speed (speed = speed) most Buffaloes: Sumeria + 15HP = 40HP most efficient meat Hunting: Persian + 3food Eat most effective results: + 25% speed Palmyran fruit most effective logging: Phoenician + 3wood Training gold most effectively: Egyptian gold +2 Digging most effective stone: Babylonian stone +3 Cheapest: Shang 35food most expensive: Palmyran 75food Supply R (Chariot Archer) Fastest Shot: Assyrian + 40% rate of fire (all archery unit) Shoot strongest: +1 Hitte damage (damage = the damage) (nt) most Buffaloes: Egyptian + 33% HP (including horse stripes) Camels Fastest: Palmyran + 25% Horse guillotine ( Cavalry) Cheapest: Yamato -25% Provision A (Composite Bowmen)farthest Shoot: Minoan range +2 Elephants most Crazy: +30 speed Persian Fort rock hoisting most Buffaloes: Hittite + 50% HPCheapest: Macedonian -50% off fees (including dwarf cannon arch) Fastest Shooting: Sumerian + 50% rate of fire (to upgrade to Catapult) Looking farthest unused units range (range) of Macedonian: +2 range.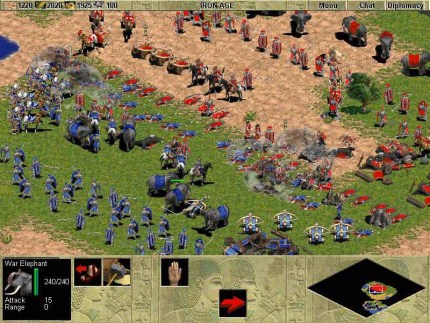 Some code (command) basically in the empire game Age of Empires:
Reveal MAP: Light map
Pepperoni PIZZA: 1000 meat
Coinage: 1000 gold
WOODSTOCK: 1000 wood
Quarry: 1000 stone
NO FOG: Fog Clear
STEROIDS: Develop faster
KILLX: Kill player X (X = 1,2,3,4 ... 8)
Homerun: Win
DIEDIEDIE: Enemy dead
Resign: You gave up
STORMBILLY: Robot laser shot
CONVERT THIS !: Sorcerer called thunder
Big Momma: Sports car with a nuclear weapon
POW: baby 3-wheeled vehicle with a gun.
POW BIG MAMA: Big Momma as
PHOTON MAN: commandos with nuclear weapons
BigDaddy: Vehicles with nuclear weapons
E = MC2: Robot fire rockets
Big Bertha: mental Fort stronger crane
ICBM : Ballistas (cannon supply) range in 1000 ranged
HOYOHOYO: Sorcerer faster and stronger than
UPSIDFLINTMOBILE: Supply R (Chariot archers) go super fast and very fast shot
DARK RAIN: Provide A (Composite Bow) turn into trees
BLACK RIDER: Horses C (Horses Archer) after death turned into cannon crane
Medusa: Farmer killed a horse C. Horses C higher gun death
GRANTLINKSPENCE: Turn fun into Animal Kings.
GAIA: Animal Control
Hari KARI: Your Things are explosive toss
FLYING DUTCHMAN: Boat Catapult can go terrestrial
KING ARTHUR: Turn into a dragon eagle
JACK BE Nimble: Fort Crane fired farmers