Found 1 application with keyword MyEqText....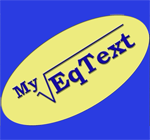 Publisher: Thầy giáo Mỵ Duy Thọ
MyEqText 3.0, with version 3.0 MyEQText , teachers will no longer spend much effort to prepare a proposal all reasonable and students can quickly test the result of the calculation chain ...
Version: N/A
Capacity: 4,1 MB
Request: Windows, Microsoft Office Word 2003
Search More: MyEqText , Type equations
Using Google for Searching...