To introduce

Coowon browser is a web browser based on Google Chrome browser is designed with many features for gamers .

This browser provides you the basic features and advanced , including: performing automatic tasks ( botting ) , support the Record & Play utility , log in to multiple accounts in multiple tabs , controlling the speed of the game . .. in addition, the tool also supports popular features such as mouse gestures , drag , double-click to close tab ... All the above features combined into a browser Coowon variable base ideal for gamers.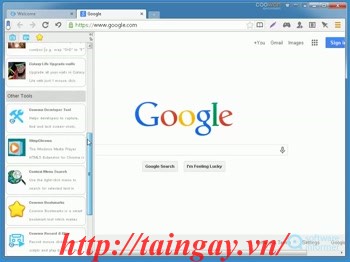 The main features of Coowon:

Support for extensions and task automation (Bot)

The browser is based on the Chrome should be fully compatible with the Google browser. Thus, the mechanism of action of the extension of utilities Coowon like Chrome.

Control the speed game

Another annoying thing for gamers as connection speed is too slow, decrease performance gaming. Foreseeing this, provided Coowon features adjustable game speed. For example, when you play Plants vs. Zombies, you can make the game slow down.

Sign in to multiple accounts in different tabs

There are many reasons that gamers want to log many different accounts, for example, a player wants to log two Facebook accounts: a general account, an account for the game. Or you want to sign two accounts simultaneously bigpoint.com to play two different characters at the same time. Multi-login feature of Coowon tab brings you this gadget.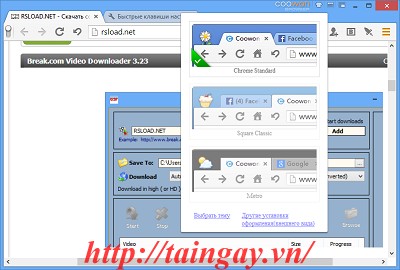 Mouse gestures

This browser supports custom manipulation commands. Also, the default settings of the browser designed carefully to be able to remember easily. For example, you can switch to tab left by operating Up and Left: ie you hold the right mouse button, move upwards and then left. Or users can close the tab is used by manipulating Down and right (hold right mouse button, move the cursor down to the right). For more options to manipulate the mouse, in the browser menu (top right) -> Settings -> Mouse gesture customization.

Drag to search

Select some text, drag and drop text a few centimeters, the browser will automatically search Google and present the results in a new tab. All this process takes place almost immediately. Another way that you can drag the link then release the mouse button, Coowon will open the link in a new tab.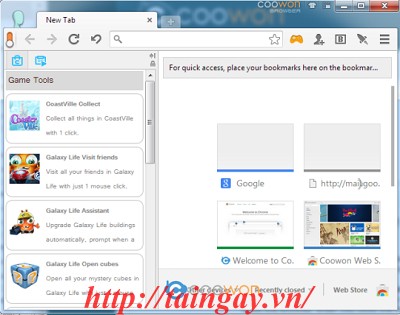 Support reopen closed tabs button

Surely many have missed the wrong hands close a tab is used and is not recovered. This feature will help users no longer have headaches while getting into that situation again. Just press the button in the address bar on the left and just off tab will appear again. Alternatively, you can press this button for a few seconds to open the access history. Not only that, users can also use the Ctrl + Shift + T to find pages that are both off.

Double click to close tab

Normal to close a tab, you must close the small button on the screen. However, now it becomes Coowon help much simpler by double clicking on the area Double tab.

Record & Play

This is not a feature of this browser, but a bundled utility. This utility enables users to perform repetitive tasks while gaming and web surfing. You can record mouse movement and keystroke once, then on again several times arbitrary. Access Coowon AppCenter to install this utility.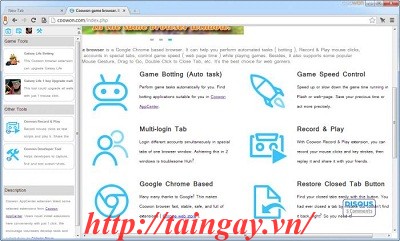 Support Gamepad

Coowon is the first browser to support the Gamepad. This tool can help reconcile the gamepad buttons with the buttons on the keyboard, so you can control the character with gamepad and make combos easier. This feature is very useful for those games that do not support direct gamepad.

Currently, Logitech gamepad Coowon support, all gamepad compatible with XBox and several other gamepad.

Support Bosskey

Bosskey hotkeys are used to hide the browser window immediately. Bosskey default is Alt + F1 Coowon, however the user can customize according to their own.

Note: This feature may not work when you use the browser for the first time. In that case, turn it off and open the browser to use this feature.

Updates in the new version:

Additional buttons adjust the transparency of the browser window
Fixed a bug display with several adapters
The new design for the popup window the user manual