ABOUT LINE FOR MAC
LINE is a messaging app and make free phone calls, multi-function interface enhancements for Mac OS X.
LINE application was downloaded the most in more than 40 countries worldwide. This is a global messaging service and loved in more than 230 countries.
LINE fun experience with these fun stickers sticker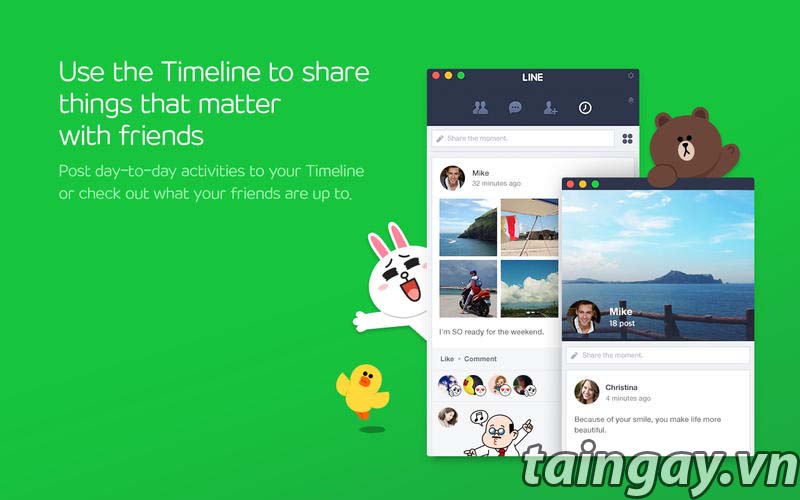 LINE provides over 250 stickers and unique emoticons, enabling users to deliver information more out text input tool. Additionally, users may experience much more popular stickers in Sticker Shop and attractive integrated. Please use fun stickers to chat becomes more vivid and engaging.
Sticker Shop Store offers from LINE characters familiar to the more popular subjects. With multiple sets of stickers are provided free of charge, users will unleash choice to suit personal preferences.
Upgrade experience with the game LINE
LINE users can play games together and with real LINE friends. Compete for the highest score and compete together. LINE Game offers an entertainment experience completely new and extremely unique.
Video messaging and voice messages
LINE allows users to send text messages, photos and location information as well as video messages and instant voice messaging.
Free voice calls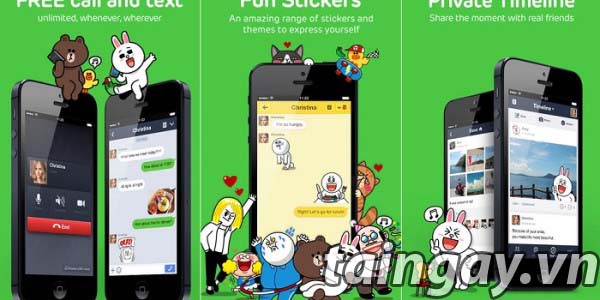 LINE allows performing long calls, free conversational experience and quality anytime, anywhere from the smartphone and your PC.
Note: LINE supports free calls on iPhone and Android. If you use other devices and does not support features free voice calls, you can use from your computer to perform LINE calls.
If you want to make free calls from the PC version, please update the latest version of PC and smartphone.
Use LINE from PC
LINE allows to keep connected with friends even if you're from anywhere and at anytime. Use LINE on your smartphone when you're on the move and from PC (Windows, Mac OS X) when in the office or at home.
To access LINE from your PC, you need to register an account via email. In applications LINE> Settings> Email Registration.
Chat groups with favorite friends
Chat with all your friends at once with group chat features fast and simple. Create or join groups and chat liking up to 100 people at once.
Choose how to add you to the list
With shaking device "Shake it!", The user easily add a friend to the list of friends by shaking the device simultaneously. In addition, LINE also allows exchange your ID with QR codes.
Custom wallpapers
Choose from any of 36 backgrounds default or personal photos are stored in mobile devices.