HDVIET FOR WINDOWS PHONE - APPLICATION WATCHING HD MOVIES, HD TV ONLINE
HDViet as HD video playback applications, online HD TV for free, including many genres: the TVB, the Republic of Korea, affectionate, the American film, film notes, many TV channels like movie star, star world, HBO, AXN, Discovery channel, channel Nageo, cinamax, SCTV, VTC 1 HD, 2 HD VTC, VTC 3 HD, VTV1, VTV2, VTV3, HTV7, HTV9, sports, football, television ...
NEW FEATURES IN VERSION 1.0.0.5:
* Some movies does not load subtitles.
Lets look to the film viewing.
Solve serious error on some networks and a phone number can not open movies and TV applications.
Resolving errors some html characters , not displaying in subtitles.
Add subtitle synchronization functions when subtitles are corrected.
Lets hit back to hide the control bar while watching movies or television.
Use your back button to exit the movie or television instead of exiting the application.
Resolving not to stick controller error obscured subtitles during movies.
Show notification if an error occurs, allowing users to try again instead of exiting the application.
Resolving error does not play 1 television channel number.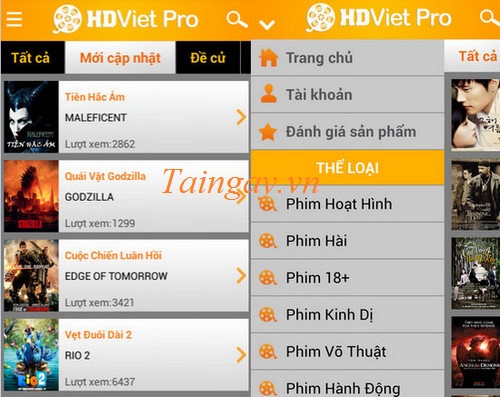 Mobile TV channels with large salary