Found 2 application with keyword windows media player....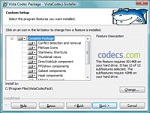 Publisher: Shark007
Vista Codec Package With Vista Codec Package , you can equip Windows Media Player almost every codec in just a single time .

Publisher: Microsoft
Windows Media Player 11 is an application for playing and managing multimedia files on the Windows operating system.
Version: 11.0.5721.5230
Capacity: 24,5 MB
Request: Windows XP/Vista/Server 2008
Using Google for Searching...