CALENDAR EVERYTHING IS - GOOD DAY FOR ANDROID CALENDAR - APPLICATION SEE GOOD DAYS - BAD
Calendar Everything is known as a good day's Calendar application is indispensable in daily life, helping you easily search information lunisolar date, see good days - bad and many useful information for life .
The application is free, does not arise automatically debited message prompts the user's junk. So please download the Lunar Calendar - good day calendar to calendar lookup whenever you want.
NEW IN VERSION 1.2.1:
See good day to work in your life.
Fixed Lu Ban Ruler.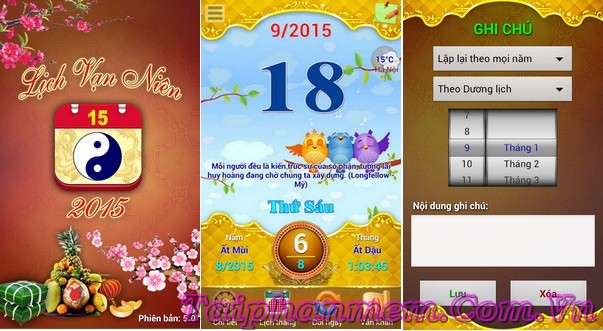 THE MAIN FEATURE OF THE LUNAR CALENDAR - GOOD DAY FOR ANDROID CALENDAR:
See calendar day, calendar month of yin and yang, good-hour day - bad, departing direction, so good - bad ...
See why limit
Van professed traditional
Information commentaries good day / bad with age
Schedule events, keep in mind the importance of the lunar day - the calendar.
Install and customize the widget on the Home screen
Wishes sense
Transport in the commentary
Births case
Show the love
Funeral double counting
Quotations life
In the old days
View old building
Original size hole
Sharing applications with friends
And many other utility functions are completed each day.