PERPETUAL CALENDAR FOR ANDROID - SEE PERPETUAL CALENDAR ON ANDROID
Perpetual calendar 2015 calendar app is completely free, allowing users to look up the lunar calendar, solar calendar convenient and quick as ever. Moreover also help you see information about the calendar day, calendar month of yin and yang and many other useful information.
2015 perpetual calendar also synthesized a lot of post office vows, praying Eve, outdoor offerings, please render year vow, vow offering documents fifteenth July .... Also, it supports user-written notes in lunar calendar, solar calendar.
SOME NEW FEATURES IN VERSION 6.7
Fixed bug download, upload notes.
To increase data safety notes.
Fixed a bug in "Loading giftcode".
Fixed installations "Today".
Fixed crash on small screen devices.
Fixed icon "of today" inactive.
Fixed a bug in the " Custom colors ".
Open the Calendar feature wallpaper changer.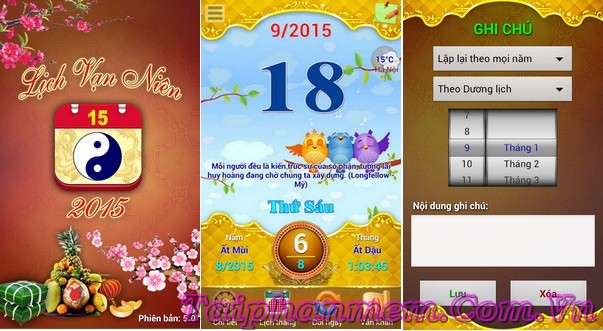 THE MAIN FUNCTIONS OF THE PERPETUAL CALENDAR FOR ANDROID
See calendar days.
See the calendar month.
Calendar change negative to positive, positive to negative, fast and accurate.
View daily weather by location.
See circadian rhythm: Gives you information about the status of health change, emotional intelligence to streamline their working time accordingly.
Van profession: Both professed hundred texts spread throughout the theme.
See directions and departing date.
Widget hours, days, months.
Write a note or negative calendar.
Allows custom color display.
Support the small screen series (240x320).