FENG SHUI COMPASS VIETNAM FOR ANDROID - SEE COMPASS FENG SHUI VIETNAM
Feng shui is the doctrine specialized study the influence of wind direction, direction of air, water circuit to the life of the human being art.
In terms of materials, style means "wind", the phenomenon of air movement and hydro means "water" is water, symbolizing terrain.
Feng shui is not a single factor but a combination of mass factors terrain around housing, village, city or graves, wind direction, water flow and coordinates the direction, shape, texture, Construction ground space. Feng shui involves sand hung, graphic happiness, life prematurely, the same message of personnel. Cat was certainly right feng shui, feng shui assault was certainly inappropriate.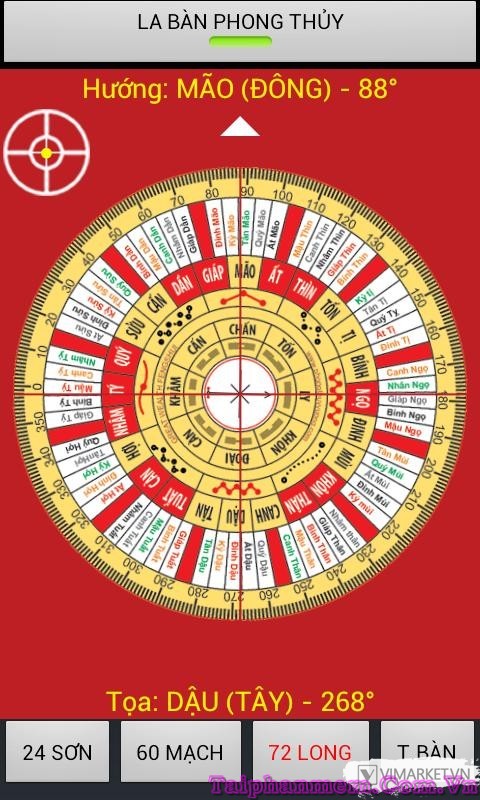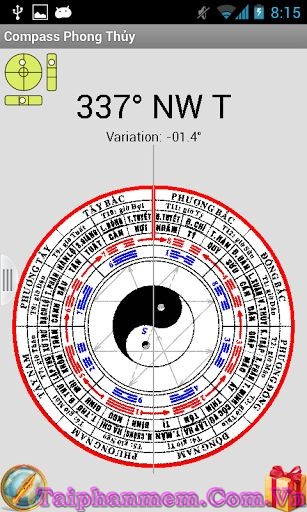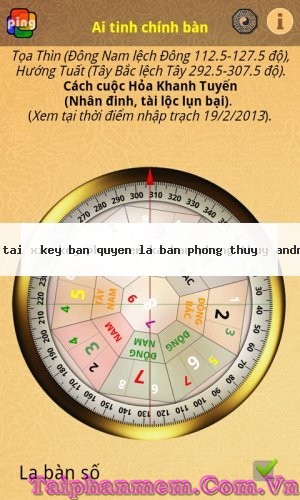 "Feng shui compass Vietnam" is software designed with user-friendly interface, catching, running on the mobile phone and tablet operating system Android from 2.1 and up and supports compass sensor Some of the following brands: Samsung, HTC, Sony, LG, ...
Feng shui compass is useful for teachers, you study the feng shui ... to measure the direction of the house, toward the door, towards the kitchen, work desk direction ... Or simply you can use the compass as usual . Or those who wish to purchase housing, construction, viewing direction, interior layout and exterior, wedding altar, praying closet ...
KEY FEATURES OF THE SOFTWARE:
Measuring the direction, towards the door, towards the kitchen, towards the desk ... with high accuracy.
Take a screenshot to save on your computer, see later.
That is economic classification guideline under Huyen Khong.
Measure bad Direction good.
Measure the East, West, South, North.
Optional display with lock function to locate.
Important note: Keep the magnetic compass in a stable region, remote computers, phones / other tablet, power cables and electrical equipment for measurement results are accurate.