PERPETUAL CALENDAR 2015 FOR ANDROID - ANDROID APPS CALENDAR
2015 perpetual calendar app for Android is a free calendar on your Android device. Help users lunisolar calendar lookups, see good and bad days, departing direction, the configuration pulse age quickly, while also providing texts Holidays profession very detailed and comprehensive.
In addition, help you see accurate weather information on all cities and provinces nationwide, continuously updated weather and forecasts up to 5 days. Additional beautiful widget with quotations and date calendar, weather comes.
FEATURES UPDATED IN 2015 PERPETUAL CALENDAR APP 4.0.5
Fixed a bug when entering Calendar exodus lunar day 30/7.
Added functionality "Etiquette Festival", "Handbook on New Year", "The Tet".
Fixed plays at the beginning of a number of less popular models.
Remove ads when on the calendar, not on calendar fixes on some models.
Add text vows Spirit (Shen Tai, Buddhist ceremony, Guan Yin, Marian ... Tam Toa).
Fixed not escape when pressed back.
Fixed stopped when pressed home off and on again.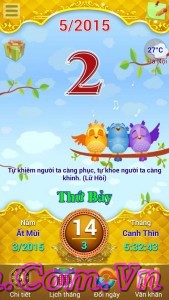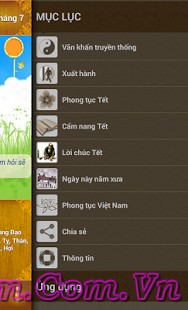 KEY FEATURES OF THE APP FOR ANDROID PERPETUAL CALENDAR 2015
See lunisolar calendar with many profound quote.
Widget cool with quotations and calendar dates.
Notes directly on dates with your calendar.
Note the work and the important notes, timer and reminder.
Timer easy job.
See calendar to go along Khong Minh, Li Chunfeng.
Van professed holidays in years.
Placing the altar of the God of Fortune.
United hand superstitious superstitious name.
Reminders before each full moon and new moon.
Supports custom unique claw calendar.
In summary, 2015 perpetual calendar application required on every Android phone, allowing users to easily look up the calendar, see the weather forecast, fortune telling, do note ... a most favorable way.