GO KEYBOARD FOR IOS - STYLE VIRTUAL KEYBOARD FOR IPHONE / IPAD
GO Keyboard app for iOS is a colorful keyboard and operate faster and custom designed devices for iPhone, iPad and iPod Touch.
GO KEYBOARD DOWNLOAD THE LATEST VERSION 1:22
Additional many new theme: each week, users will be provided with a new theme to experience on your iPhone or iPad.
Support functions from next suggestion, but can only be used with the Latin.
Features automatic spelling and guess since been upgraded with more accuracy.
Localizing the Portuguese language (for users in Brazil, Portugal ...).
Keyboard layout new Thai.
Fixed several bugs of the previous version.
Upgrading operations of the virtual keyboard.
Experience each hand touch on the keyboard gorgeous GO Keyboard. If the version on Android GO Keyboard is used with GO Launcher EX starter, the version on iOS platform allows independent use with high customization capabilities.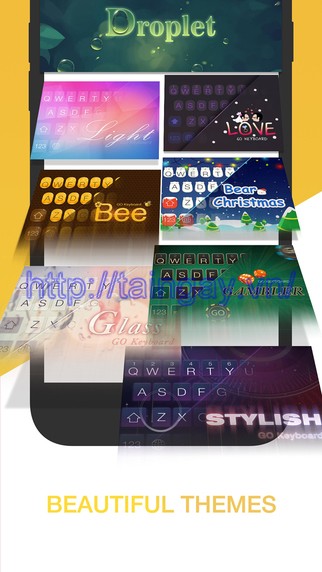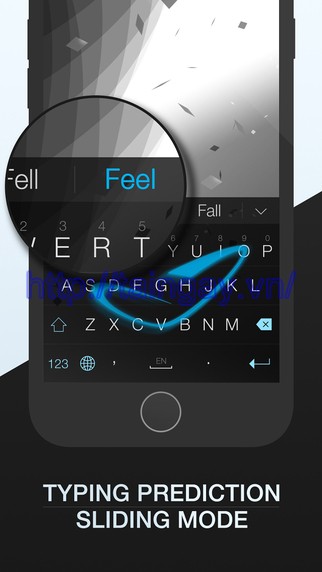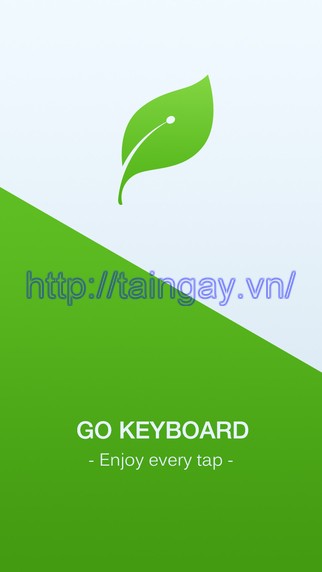 You are bored with the default keyboard iOS 8 while only 2 white and gray monotony? Experience Now GO Keyboard for iOS withgreen tones fresh, new technology the virtual keyboard works very fast and smart, can be compatible with the input of each user and allows personalized comfort away. In addition, GO Keyboard also features integrated automatic spelling correctionand many other intelligent experience.
GO Keyboard features a dazzling collection of themes , emoji icons abundance and variety of new content being added regularly. Every touch of the hands on your virtual keyboard will be carried out effectively, easier and more enjoyable.
Designed for iOS 8 or more, GO Keyboard support on any service that needs to input data, including text messages, WhatsApp Messenger, Kik Messenger, LINE, KakaoTalk Messenger, WeChat, email, notes, social networks Facebook , Twitter and many other applications.
THE MAIN FEATURE OF GO KEYBOARD FOR IOS
Theme beautiful and customizable background image
The operation on the keyboard was never so fun! You can customize the form and style of keyboard iPhone, iPad using the brilliant and free theme, each week there will be a new theme is added in GO Keyboard. This is a smart choice for your device "shine" from the crowd. You can also install your own keyboard by using personal photos as wallpaper.
Powerful language support
Easily switch between different keyboard types. GO Keyboard support more than 36 languages ??and automatically adjusts the reference section of your language, including bilingual keyboard for data entry purposes higher .
Predictive Input characters
From now on, you do not need to worry about long typing or spelling mistake again, GO Keyboard will learn about typing habits of each user through what they have input. Although you made ??a typo but GO Keyboard still help you fix and display correctly on the screen.
Personal vocabulary library
GO Keyboard attention to how you enter text, memos and create a library of your own language. The typing error and confusion of characters no longer occur more frequently. But that was only the preliminary feature of GO Keyboard. Many exciting new enhancements will be added gradually in later versions. Do not forget to update regularly GO Keyboard on store App Store!
Other features
Professional design team of GO Keyboard will add a new theme each week.
System unique gesture manipulation on the keyboard.
Allows to copy and sync personal dictionary.
HOW TO ACTIVATE KEYBOARD GO KEYBOARD ON THE IPHONE / IPAD
Find the keyboard settings in the general system settings.
Set the keyboard to add a third input method 3, and then select GO Keyboard.
Select Allow Full Access to GO Keyboard Keyboard (turn green switch button) to access the personal information.
NOTE:
GO Keyboard ensure safety for manipulating keyboard settings above.
You can find the type of keyboard horizontally in GO Keyboard app in the personalization options keyboard.
Application does not collect personal information like credit cards, ID ... of users. However, you will get a warning when enabled with the following content GO Keyboard "keyboard will collect your personal data." This is a standard message for any applications 3rd party keyboards, so users do not need to bother.
Languages ??supported by GO Keyboard Keyboard:
English, Afrikaan, Arabic, Belarusian, Dutch, Filipino, French, German, Greek, Jewish, Hindi, Hungarian, Indonesian, Italian, Japanese, Kazakh, Korean, Malaysian, Persian, Polish, Portuguese Portuguese, Romanian, Russian, Simplified Chinese, Spanish, Thai, Traditional Chinese, Turkish, Ukrainian, Urdu, Vietnam.
Users can contact the publisher via email address goforkeyboard@gmail.com to send feedback, report bugs or propose new features for future versions. The application is designed optimized for iPhone 5, iPhone 6 and iPhone 6 Plus.