Phoneclean allows you to clean, remove junk files and reclaim storage space for iPhone memory to help the device run faster, store more important data. This software also helps clear cache files to make iPhone run faster, protect your privacy by cleaning cookie and script files. All of these operations are done via the computer connected to your device, so it's quick and easy.
PhoneClean is a utility that helps you check and remove unnecessary Cookies, junk, cache... files, freeing up your phone's memory safely and easily, speeding up iOS operation.
PhoneClean supports finding and removing useless files on your iPod, iPhone, iPad to free up space to make iOS devices run faster and speed up your iDevices.
To better understand the garbage cleaning function on iPhone with PhoneClean, see the instructions on how to use PhoneClean to free up iPhone memory in our tips section.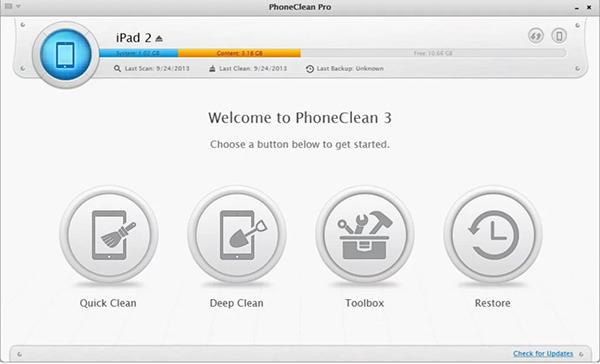 Some main features of PhoneClean software:
- Support search and delete junk files, corrupted files on your iPhone, iPod, iPad.
- Support to ensure the safety and privacy of personal data on phones, even PCs and Macs.
- Support to remove corrupted media files when downloading.
- Make your iOS devices run faster, safer.