INTRODUCTION TO MOZILLA THUNDERBIRD
Mozilla Thunderbird is a free email application. Helping you to access email faster, and easier to use with intelligent spam filters, built-in RSS reader.
Thunderbird was designed to prevent viruses and to stop junk mail. Thunderbird include tabbed e-mail, new search engine, indexing, support for Firefox Personas, simple installation and intelligent spam filters.
This app has all the tools you would expect, including the ability to manage multiple accounts from a single interface, to establish guidelines for loading mail into folders, create color-coded for ease of email easy classification ...
UPDATES IN THE NEW VERSION:
Fixes:
Fixed a problem with the signature display too dim, the user can not read
Automatic error correction features when answering letters CC inactive if CC address coincides with the address of the recipient
KEY FEATURES OF "MOZILLA THUNDERBIRD":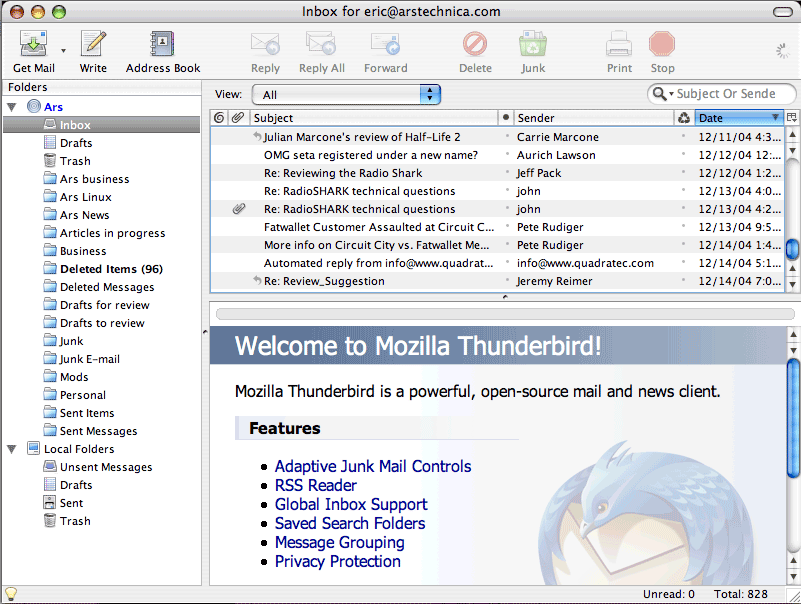 Easy start over
Account setup guide mail
Before using this feature, you should consider setting up IMAP, SMTP, and SSL / TLS her. Now, all you have to do is provide your name, email address, and password, and then guide the email account setup will check the database and search settings for your email.
Personalize the email address
Have you ever thought about having a personalized email address (such as "[email protected]") for yourself, your family or your business? Thunderbird will help you easily get it - you can register a new email address within Thunderbird, and it will automatically set up for you ready to send and receive email.
Tabbed Email
Thunderbird reconstruct new look and feel of Mozilla Firefox to attempt to offer users an experience similar across all desktop software or mobile and all platforms.
Tabbed email lets you load emails in many different tab so you can quickly switch to them. The tabs appear at the top of the menu provide effective visual experience and allows the toolbars have more context.
Tabbed email lets you open many different emails at the same time for easy reference. You simply double-click or press enter on a mail message to open it in any new tab.
When exiting Thunderbird, visible tabs will be stored and will be restored when you open Thunderbird the next time. Also, there Tab menu on the toolbar to help you switch tabs between different tabs.
One-click Address Book
One-click Address Book is how quick and easy to add more people to your address list. Add another person's address by clicking the star icon in the message you receive. When you double-click, you can add more detailed information such as pictures, birthdays, and other communications.
Ministry reminds attachments
Ministry reminds attach search function word attachment (and other file types) in the text message and reminds you to add attachments before hitting the send button.
Chat multichannel
You can enjoy a conversation in real time with your contacts from favorite messaging app, through many different networks are supported. Thunderbird makes it easy to search through these conversations and emails were received earlier.
Search
Search Site
Now you can search the site without having to leave Thunderbird. You enter what you want into the search box of Thunderbird and choose from the different search providers.
You can also highlight words in your email, right click, and select "search the web for:" to start searching the web.
Quick filter toolbar
Quick filter toolbar allows you to filter emails many times faster than normal. After entering the words in the Quick Filter search box, the results will be displayed immediately. Or you can filter your email according to new messages, tag, and people in the address list.Moreover, you can also "Pin" or storing filter and use it across many different directories.
The search tool
The search interface in Thunderbird include filtering and timeline tools to pinpoint the email you're looking for. Thunderbird also indexes all email and chat conversations of you to help you search more quickly. The search results will be displayed in a tab so you can easily switch back to transfer search results and other email.
Archive message
If you think you'll need an email in the future but does not want to leave it in the mailbox to nor want to remove it, so be sure to store it again. Archiving helps you manage your inbox and put your email into the archive folder system. Just click Archive or key 'A' to store your email.
Ministry operations management
Ministry operational management will record all interactions between Thunderbird and your email provider set in one location. You just need to look in one place to see everything happening with your email.
Customize your email experience
Manage high-volume files. Share files with extremely high capacity with Thunderbird Filelink simple!
Now, you can speed up the transmission of documents by large to upload to the provision of online storage and sharing a link instead of sending files as attachments directly to the message. Improving speed and avoid emailing reject messages if the recipient's server does not allow files of a large capacity. Additionally, you can also save space in the directory sent and the recipient's mailbox.
Interface and Experience Thunderbird
With Personas, the "skin" Compact allows you to change the look and experience Thunderbird in a snap. Hundreds of different skin taken from the latest movies, famous landmarks, and Japanese tattoos. Additionally, you can choose from the different Themes to change icons in Thunderbird.
Smart folders
The directory information to assist you in managing many different email accounts through a combination of specialized folders like Inbox, Sent, or Archive. Instead of going to the Inbox folder for each of your mail accounts, you can see the entire email to your inbox in just a single folder.
Ministry management add-on
Find and install add-ons directly in Thunderbird. You will not need to visit the add-ons site anymore but instead are Add-ons Manager.You are not sure whether the add-on that is appropriate? The reviews, recommendations, descriptions and pictures of the add-on will help you choose the right girl so.
Secure and protect your mail
Cut spam
The spam engine popularity of Thunderbird has been updated to be able to prevent all types of spam. Each email you receive must be through the advanced spam filter of Thunderbird. Each time you mark a message as spam, Thunderbird will "learn" and improves its filtering so you can spend more time to read mail without worry because spam anymore. In addition, Thunderbird can use spam filter in your email program to prevent spam attacks the inbox.
Robust security and no track
Thunderbird supports protection of personal data of users and block remote images. To ensure personal data, Thunderbird will automatically block remote images in email messages.
Also, Thunderbird also supports Do Not Track option (not monitored). This function is associated with searching the web, but can also be used in other requests for web pages that are activated by the add-on.
Prevent fraud
Thunderbird protects you from email scams are trying to retrieve important information and your personal data through the directive when certain messages with potential phishing threat. Thunderbird warns you when you click on links that can lead you to a different site rather than the site is indicated by the URL in the message.
Automatic updates
Thunderbird's update system checks to see whether you are using the latest version, and notifies you when there are security updates. These security updates are usually very small (200KB - 700KB), giving you what is needed and help for the download and install them quickly. Automatic update system that provides updates for Thunderbird on Windows, Mac OS X, and Linux in more than 40 different languages.
Open source
Thunderbird is the central part of the process of developing an open source code created by thousands of passionate, experienced developers and security experts worldwide. Expert community that help increase security and faster updates for products while taking advantage of assessment tools and third-party scans to ensure total security.