CCLEANER FOR MAC - UTILITIES MAC SYSTEM CLEANUP
CCleaner for Mac is software that cleans the system was developed exclusively for Mac OS, with features clean up junk files, temporary files, removing Registry, optimize and speed up your Mac system.
The app will automatically scan search and remove junk files, as well as many other problems related to computer hard drive or a web browser is used in the system, optimizing help machine run faster, smoother.
You can download CCleaner for other platforms here:
In addition to free up memory for the computer, CCleaner for Mac also can delete the personal data as delete browsing history, cache on some popular browsers such as Chrome , Firefox , Internet Explorer , Opera ... At the same time, also to wipe list Recent files opened in Microsoft Word , Adobe Reader , VLC Media Player and asks if you want to delete them?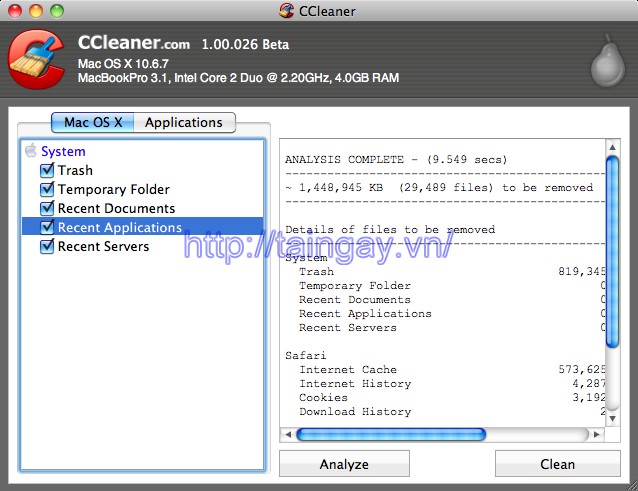 CCleaner for Mac - Clean up your Mac, the Mac system speed.
WHAT'S NEW IN VERSION 1:09
Management Login Items.
Add feature removes unnecessary language from applications.
Additional support for Mountain Lion Gatekeeper (OSX 10.8).
Fixed a bug causing inaccurate warnings.
Update the list of cookie after cleanup.
Support for cleaning functions.
Gender Analysis of the results from detailed empty.
Fixed false positives browser running.
Adjust interface.
SOME KEY FEATURES OF CCLEANER FOR MAC
Overall scanning system to help you find and delete all junk files, temporary files, cache returning memory capacity, helping Mac run faster.
Uninstall applications easily and quickly remove the remaining files in the system.
Support Registry cleaner.
Clean browser history, browser cookies, support faster browsing.
Increase performance of your Mac.
More information about CCleaner for Mac
MANUAL CCLEANER FOR MAC
CCleaner for Mac's interface is no different on the Windows operating system as it is, should anyone ever use CCleaner on PC surely will not get stuck in the process used on the Mac, on the main interface will have 3 content tags corresponding to 3 individual functions as follows:
Cleaner Tags:
In the card's Cleaner 2 items MacOS X and Applications, to check that CCleaner will clear how many junk files and free up much memory, you can click Analyze , and then click Clean to enforcement.
Tools Tags:
There are 3 button Uninstall (remove software), Repair Permissions (repairing the corrupted file permissions on the drive) and Erase Free Space (meaningless data recorded in the gaps to ensure they can not be recovered once deleted data from the past).
Card Options:
This card helps you keep the cookies from sites that you have visited in the past by selecting the name of the page and click the right arrow button, otherwise this option when conducting cleanup program deletes Cookies saved whole.