DOWNLOAD ACCELERATOR PLUS FOR MAC - MANAGEMENT TOOLS DOWNLOAD
Download Accelerator Plus is a file download manager (faster than 300%). Connect multiple servers for maximum performance. It also has the ability to recover from lost connections, computer shutdowns and other errors.
The program can also search for mirror sites to maximize download speeds. It is fully integrated into the browser, supports proxy servers, auto-hang-up after download completion, and more.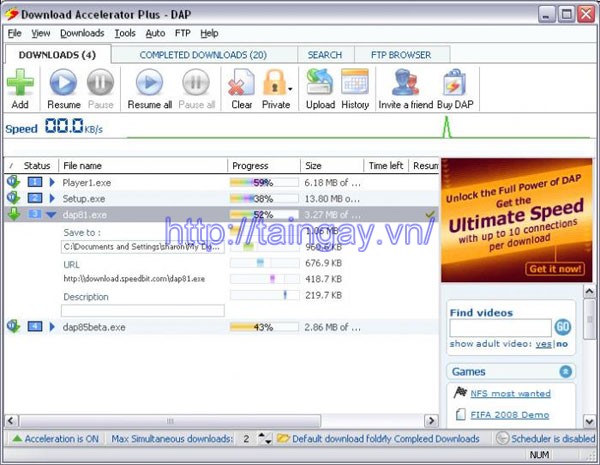 Download Accelerator Plus (DAP) is a download manager leading, allowing you to load up to 300% faster with high reliability, resume support and bug fixes. It searches for mirror sites that most effectively serve your downloads through multiserver connections for dial-up or broadband.
DAP automatically recovers from shutdowns, lost connections, and other errors. It is fully integrated with Netscape , Internet Explorer , and Opera , Mozilla Firefox and offers a toolbar for Internet Explorer with a links catcher, for the highest performance with any type of connection (dial-up, cable, DSL / ADSL, T1, ...), the download experience faster and more stable. It features auto-hang-up after downloading, proxy settings, scheduling and AlwaysResume unique service.
FEATURES OF DOWNLOAD ACCELERATOR PLUS:
Preview pane: Preview downloads of music and video files.
Download list: Advanced management capabilities list, the priority and the download status.
File Information Table: Information of downloaded files and sources.
List of completed downloads: Own List download tasks completed.
DAP Drive integration: Save the downloads and Upload files to DAP Drive web storage.
Media Center Tab: Manage multimedia content effortlessly.
Easy to Use: New interface with flexible design options.
Integrates with all browsers: Internet Explorer, Netscape, Opera, Mozilla / Firefox.
DOWNLOAD ACCELERATOR PLUS REGISTERED VERSION INCLUDES FEATURES:
Zip Extract - download & extract specific files from zip.
Removal of the Banner Advertisement within the application.
DAP Skin Selection.
Manage passwords and other relevant information of the website (no limit).
The icon in the system tray when loading.
Prioritized technical support.
Excellent speed - for faster download.
ONLY WITH DAP PREMIUM:
Much faster - x10 connections per download!
Absolutely no ads!
Ability to customize totally!
Securely delete unnecessary files!
Trace Cleaner - keep your privacy after browsing!
Preview & extract zip files while downloading!
Sleek new look, features, management more convenient!