Found 1 application with keyword Internet browser....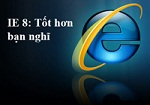 Publisher: Microsoft
Internet Explorer 8 , Internet Explorer 8 is not present in the latest version of the web browser associated with the Windows operating system . However , this browser gives users still feel comfortable and safe to use.
FREE

Free

1,114

downloads
Using Google for Searching...