Found 4 application with keyword engine....

Publisher: VNG
Cyber ??Station Manager ( CSM ) , Cyber ??Station Manager ( CSM ) is a software management engine room Internet , makes management easier machine room and more scientific

Publisher: Adobe Systems
Adobe Audition , Adobe Audition CS6 software is a useful tool and efficient to edit , mix, restore , create the effect of audio files
TRIAL

Trial

1,783

downloads

Publisher: Dark Byte
Cheat Engine Cheat Engine is software that supports efficient game play , allowing gamers to easily change parameters as indicators game offline blood HP , scores , coins, diamonds , turn rotary .... At also, there may accelerate effective game help players level up quickly .
FREE

Free

1,124

downloads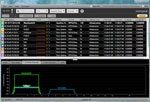 Publisher: MetaGeek
inSSIDer , inSSIDer of MetaGeek is a great tool for finding Wi- Fi networks in range of PC connectivity and collects a lot of information about the Wi-Fi networks .
FREE

Free

1,540

downloads
Using Google for Searching...