DELTA - SOFTWARE ESTIMATION
Delta8.0 software interface estimates friendliest, easiest to use and full-featured service of estimation, settlement and procurement.
THE SALIENT FEATURES
- Runs on Excel environment with extremely friendly interface, easy to use.
- Use Font Unicode compatible all windows operating systems: WinXP, Vista, Win7 32 and 64 bit.
- Complete unit construction, installation, surveying, telecommunications, electricity, lighting, greenery, cultural facilities, hydropower, island (about 54 professional norms)
- Convert between PC30 and PC40 flexible
- Summary of adequate funding (under QD1751, CV957. The unique design, make use of Excel functions or extreme, clear data, easy control => Features available only in Delta
- Multiple forms of bid, easily customizable - as many plans for contractors.
- Tools for great evaluation manager, formula is made with 100% by the formula Excel, easily check and adjustment.
- Easily calculate both the price compensation (offset fuel costs, offset wage worker driving). This feature is designed easy to understand, easy to use
- Calculate the freight for each item, the easier ever.
- Reporting system extremely intelligent. Automatically align bound direction, more customizable - easily create a portfolio according to your style
- Submitting a unique data management, easily create additional unit, specialized norms.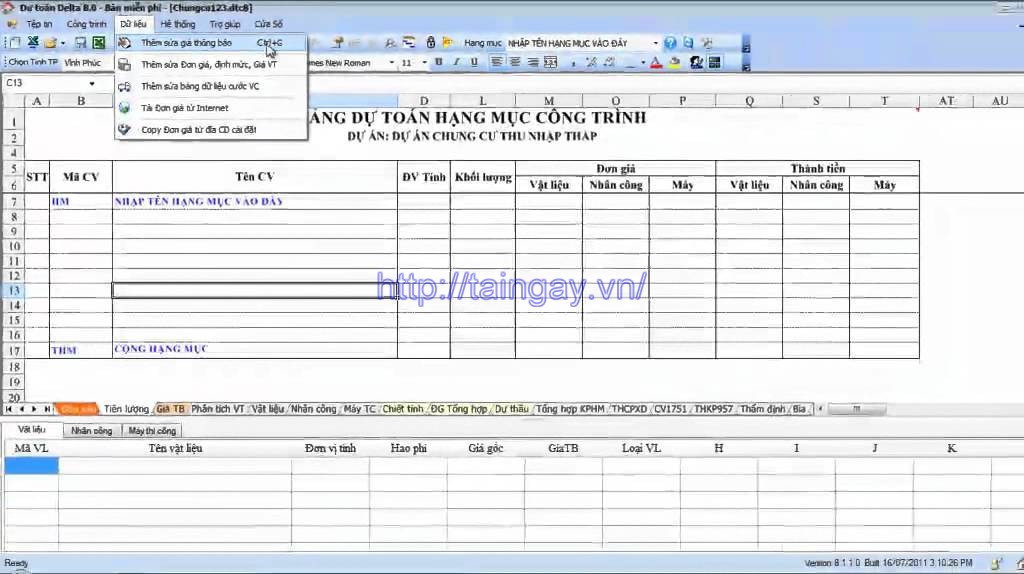 THE PROGRAM IS INTEGRATED 3 IN 1 WERE:
1. Estimating module and settlement : For the estimation, project settlement. Modules with many smart features make the process as quick estimation, where do to control the outcome to which (thanks to the display of information in parallel both unit prices and consumption norms). Easily set of estimates for the project based on the ability to import multi-category, multi-unit price in the same file. Synthesis of the last step, including project management costs, insurance, preventive ..
2. Module Contractor : Easily make bids according to different ways just by one click, switch back and forth between the old and new ways. Easily adjust the bid price by adjusting the price and types of supplies, adjusting consumption, adjusted by coefficients ..
3. Database Module : Used to edit or create a new unit price and norms. This module is built to optimize the operation, easy to use, so a new estimate from the "estimated Professor" are easily accessed using. This module also allows users to print any norms, yet (like the present unit price norms were issued, with full chapters, guidelines apply)
NEW FEATURES COMPARED TO PREVIOUS VERSIONS.
- Running on Excel- entire worksheet is set by formula Excel. Very accurate and handy for checking results.
- Using Unicode Font system and is compatible with all Windows operating systems.
- You can choose synthetic form of funding and discounted items bid for each item (suitable for both do great works in construction, telecommunications, infrastructure).
- Synthetic forms of funding and tendering items completely dynamic, just 5 minutes are possible drafting new form under the new circular or according to specific companies. (Incredibly easy to create forms in this new version created directly on Excel)
- All costs of project management according to 1751, 957 .. are tabulated interpolation right in the works, is easy to customize and test results. Meet all general requirements of funding the entire work
- The results are automatically updated (volume, price, synthetic materials, bid ..) when exporting to excel to move to the evaluation. Formula excel clear, easy to check and edit.
- Fully adjustable coefficient easily when exported to Excel (now other software fix changes the value should not be exported to excel at.