MISA SME.NET 2012 - ACCOUNTING SOFTWARE FOR SMALL AND MEDIUM ENTERPRISES
Accounting software MISA SME.NET 2012 consists of 13 modules, which are designed for medium and small businesses, with the goal of helping businesses do not need to invest in costly, without knowing much about computing and design which could cost ownership and control system of accounting software, manage all economic transactions arising his .With MISA SME.NET 2012 can now control the online data anywhere, anytime via the Internet. Specifically, MISA SME.NET 2012 supports business modeling, publishing and printing, management and use of invoices in accordance with Decree 51/2010 / ND-CP.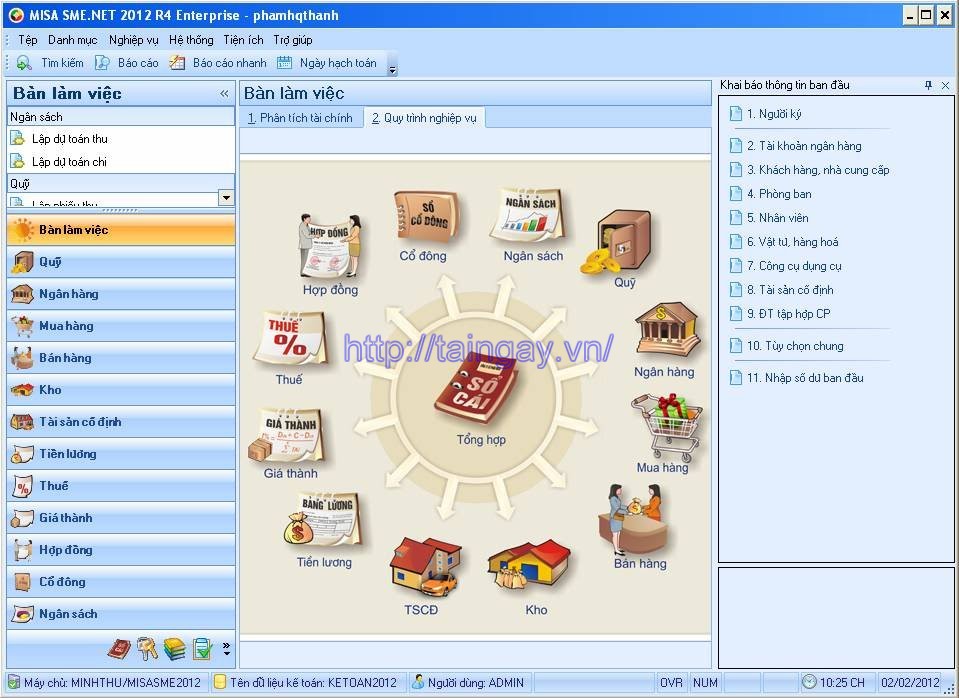 Download software MISA prescription
MISA SME.NET 2012- NEW SOLUTION MANY UTILITIES - QUICK RESPONSE TIME REQUIREMENTS OF THE TAX SERVICE
Update Circular 138/2011 / TT-BTC
Create and print invoices under Decree 151
Integrating digital signatures
Filing tax returns online
Work online anytime, anywhere
Easy access and installation, ease of use
Process accounting Photos friendly, easy to understand, easy to use with movies, manuals and online help.
Financial management tools effectively
To strictly control the financial situation, improve the efficiency of production and business.
Update the financial accounting system Latest
Always update the financial accounting system, the tax circulars, insurance ... the latest.
THE MAIN FEATURE OF MISA SME.NET 2012:
In accordance with Decree 51 bill
Supporting free enterprise modeling, publishing and printing and using invoices with Decree 51/2010 / ND-CP
Response 3 invoice forms: self-printed invoices, invoice book printing and electronic invoices.
Management canceled the bills, lost, fire, damage, delete and automatically up Report on the use of invoice.
Subsystem Fund
Reflecting the situation of revenue and expenditure, cash balance, foreign currency ... Enterprise.
Lets see the remaining budget at any given time.
Bank Subsystem
Prepare and print documents such as Czech, Delegate chi ...
Connect online with the bank via the Internet to obtain and payment ledger.
Subsystem Buy
Meet aviation operations through inventory purchase, purchase returns, purchase of imported goods ...
Automatically allocating the purchase cost, detailed tracking of the debt to each invoice purchase.
Module Sales
Meet all sales transactions as sales returns, sales discounts ...
Automatic debit interest charges for overdue debts, liabilities printed notification to each customer.
Storage Subsystem
Subsystem Tools and supplies
Supports all pricing methods warehousing as first in first, Price target list average maturity and immediate average.
Import Administration, ex supplies of goods under code specifications such as IMEI number, Serial number, chassis number, engine number, the SIM ...
Management Tools Effective tools: record an increase, transfer, adjust, allocate or decrease Tools and supplies.
Fixed Assets Module
Automatic depreciation information to each asset. Automatically allocate depreciation expense for each division, department, object aggregation costs.
Accurately reflects the situation to increase, decrease, revalued assets.
Subsystem Wages
Timekeeping and Payroll according to a variety of methods: Wages time, the fixed base salary
Automatic tracking reporting personal income tax, insurance and deduct amounts paid by employees.
Subscribe salary advance and payment details for each employee. Support for multiple forms of payment: 1 period / month or 2 each / month.
Module price
Automatic listing of input tax, output, consumption tax declarations special, value-added tax
In reporting standard barcode of GDT
Enables integration of digital signatures, filing tax returns online
Subsystem Taxes
Automatic listing of input tax, output, returns ...
In reporting standard barcode of GDT.
Module Contracts
Track progress of the purchase contracts, sale
Subscribe to detail revenues, expenses, liabilities and profit and loss for each contract, the contract
Shareholders Subsystem
Manage shareholders, issue shares, dividends.
Provide mailing tool, Email, SMS to send notifications and communication with shareholders.
Budget Module
Planning revenues and expenditures, monitor funding requirements and approval requirements and budget allocations.
Tight expenditure control, especially suitable for modeling multi-branch company, the parent company - subsidiary.
Subsystem Synthesis
Data consolidation, accrued losses, the financial statements.
Period-end closing accounting books.
More information about MISA SME.NET 2012
INTRODUCTION AND INSTRUCTIONS TO INSTALL THE SOFTWARE:
SYSTEM REQUIREMENTS
1. Hardware Requirements
Computer: Processor Intel Dual Core or higher
Memory (RAM): 1GB or more
Hard disk: 1 GB or more empty
Display: 1024x768 resolution or better
DVD Reader
Sound card, speakers (for movie guide)
2. Software Requirements
Operating System: Windows XP SP3 / Vista / 7 or Windows Server 2003/2008
Vietnamese Percussion: Unicode.