VIETNAM ACCNETIZ LAC - CHEAP ACCOUNTING SOFTWARE
Lac Vietnamese AccNetiZ is packaged accounting software running on the Windows operating system, designed to run on a suitable computer environment or multiple users on a network. Designed suitable for various types of businesses are small or medium.
Vietnam Lac AccNetiZ interface similar design of Microsoft Office software such as Word, Excel. The friendly icons, toolbars, screen system designed grouping tree with clear functions, system screen scheme ... helps users easy to use.
User input to the system through input program when accounting transactions incurred as: receipts, Voucher, stock transfer sales invoices ... With input principle once started from original documents, the system will automatically record to the ledger and the subsidiary ledger appropriately.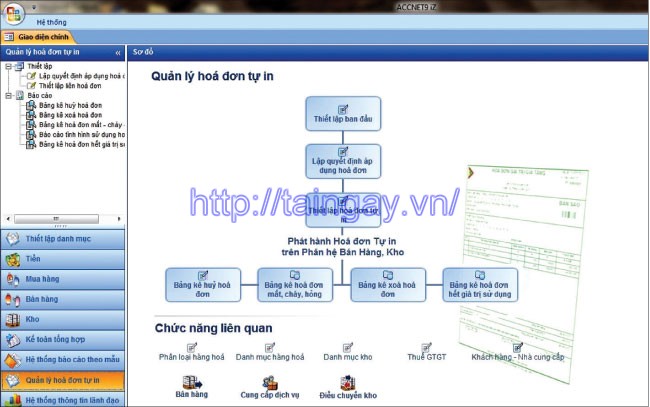 Download accounting software AccNetiZ Lac Vietnam
The accounting profession will be recognized in the system as soon as it arises, account balances, inventory value ... will be updated immediately when the book was accepted. Thus, at any time, said system can also balance current accounts, inventories of supplies, the current portion of customer ...
VIETNAM ACCNETIZ LAC OFFERS 6 MAIN MODULES:
Manage cash capital: Management of cash transactions, bank deposits, remittance operations, customer billing and payment provider, advance payment, payment in advance ...
Purchasing and supplier liabilities: Management purchase transactions, imports, service, delivery, the supplier liabilities ....
Sales and customer receivables: Manage sales operations, service delivery, treatment delivery, Accounts Receivable staff, clients ....
Inventory: Management of import and export operations, internal transfer of goods ....
Accountants: Manage all accounting transactions like salaries, debt clearing, distribution, transfer the costs at maturity, the journal regularly ....
Information System Leadership: Provide concise information on the cash flow, inventory, debt receivables, payables, sales, expenses .... Combined with online chart system assisting business leaders with timely information and support decision making.
SOME SALIENT FEATURES OF ACCNETIZ:
Intuitive interface, user-friendly, easy to learn, easy to use.
Design for professional, error alert, abide by the principle Input 1 times.
Financial Statements & Tax in accordance with current standards.
Managing thousands of reports ready.
Activity on the local network.
Tight security system.
Account system ready and allow extension with length of 7 characters.
Dealing with foreign currency and currency options accounting.
Decentralisation carrying Transactions.
Multilingual is a traditional strength of Lac Vietnam AccNet.
In particular, opening infinite AccNetiZ allow new data.
Level locking mechanism flexible copyright helps users to work anytime, anywhere.
Free upgrades and proactive over the Internet.