BATTERY DOCTOR HD FOR IPAD - IPAD COMPREHENSIVE BATTERY MANAGEMENT
Battery Doctor iPad HD is an application for managing and optimizing battery saving, is provided completely free on iPads.
50 million users worldwide have trusted choice of Battery Doctor HD - top 10 free apps in the top 10 countries and top 10 leading utilities in 30 countries worldwide.
The battery capacity of your devices is not enough for recreational activities and work during the day? Battery life is an issue that you care? Let Battery Doctor HD help you to manage effectively batteries for smartphones and tablets iDevice.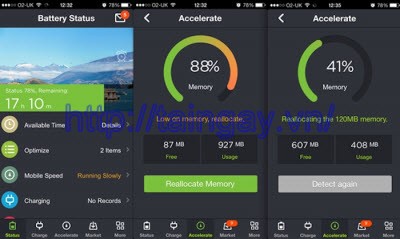 The new version of Battery Doctor HD features an improved interface , a comprehensive redesign and optimization of 10 itemsnew. Battery Doctor With HD, the iPad is always "healthy" and operate with maximum performance. In addition, the application also adds a host of new features such as function cleans junk files , more RAM allocation process , consultation process one step at a charging machine , display accurate information system , the system operator is understandable, useful tips for maintenance batteries, estimated time remaining battery life and precise energy levels, protect battery efficiency and professionalism, and finally - features The most important: Battery Doctor HD absolutely free!
In addition to managing the device battery, Battery Doctor HD also supports consolidation of memory and provide information on the iPad you. Apps help you diagnose and solve the problem of battery charging and use the most effective.
KEY FEATURES OF HD FOR IPAD BATTERY DOCTOR:
Subscribe to the "health" of the battery
Save battery charge history so that users do not need to memorize these data.
Message center
Friendly message to remind you where is the golden time for charging.
Information accurate system
Accurate information helps you easily understand the conditions of the existing system.
Battery Status
Battery Doctor HD will display the remaining battery (correct per minute) based on the specific device and available battery capacity. This data includes the total remaining time of the battery if you perform some action, such as playing music, watching movies, browsing, gaming ... from which you can choose the most appropriate activities.
Full cycle Charge
Please discharge your battery to 20%, then launch Battery Doctor HD and plug the charger cable. The app will help you to work efficiently charge the battery to 100%.
Reminder charging
The notification system will let you know when to draw power from the machine when the battery is full. Applications will be displayed as "+1" to prompt you through a charging cycle if you have not done within a month.
Maintenance guide pin
The battery of the iPad if maintained properly can maintain 80% efficiency compared with the original battery , even after years of use.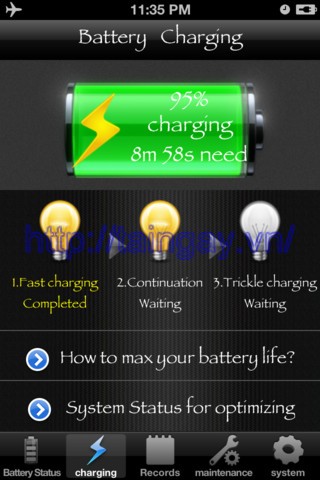 Running on the desktop
To Battery Doctor HD runs on the desktop to the program activities more effectively.
Totally Free
Users can experience all the features of Battery Doctor Free HD. Some other attractive features will be added in later versions.
Users can contact the publisher via email address app@cmcm.com to send feedback, report bugs or propose new features for future versions. You will get help within 24 hours.
NEW FEATURES IN VERSION 4.3:
Fixed some bugs when determining the type of device.
Optimizing night mode charger with wallpaper.
Removed some unnecessary tips for users.
Optimized memory enhancement, making the iPad to run faster.
New wallpaper.
More information about the battery status.
Interface languages: English, Japanese, Chinese Simplified, Chinese Traditional.