SPEEDSMART FOR IOS - CHECK NETWORK SPEEDS OF THE IPHONE / IPAD
SpeedSmart for iOS is a tool to test network speed mobile and WiFi accurate, reliable and totally free on devices iPhone, iPad and iPod Touch.
NEW FEATURES IN VERSION 7.1.2 UPDATE:
Fixed a bug related to the upload speed test.
Fixed large-capacity applications.
If your favorite program SpeedSmart, users can leave rated or actively voted on store App Store. These comments will help publishers improve the application on a better and closer to the actual needs of the user.
Supports iPhone 6 and iPhone 6 Plus - take advantage of large-size display.
Support new operating system iOS 8.
Detect wireless SSID and save the results in detail.
Ministry usage tracking data indicates the total number of data used for each experimental session speed.
Update statistics after each application speed tests.
The application is designed optimized for iPhone 5, iPhone 6 and iPhone 6 Plus.
SpeedSmart utility optimum speed tests on the iOS platform , which helps you evaluate cellular networks 3G, 4G, LTE and WiFi wireless connectivity on all personal iOS devices. Global server network and test methods intelligent speed of SpeedSmart will ensure the accuracy of the outputs.
With more than 130 million times the network speed test on many smartphones and tablets iDevice, is used by many leading experts, SpeedSmart help you check the network connection ultrafast Internet site, easily, on a eye-catching interface.
THE MAIN FEATURE OF SPEEDSMART FOR IOS:
The experiment in real time for the upload speed, download and Ping.
Check speed cellular network or WiFi wireless connectivity.
Use one-touch operation to perform experiments in less than 30 seconds.
Authentication error and standard speed ISP.
Compare the results with average speed and latency of your ISP.
Tune in detail the results of the previous test and shown on the timeline.
Easily share results inspect network speed through some social networking services as common as Twitter , Facebook or via email.
Over 70 server speed tests worldwide to have accurate test results possible.
Bandwidth Calculator. Calculate the time to upload and download of an input file size in units Kbps, Mbps or MB / s.
Press and hold on any server as the location to set the default experiment.
Map view lab results for speed is performed worldwide or in the nearby places.
The application is 100% free.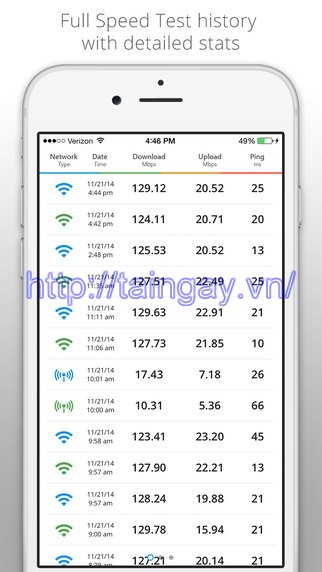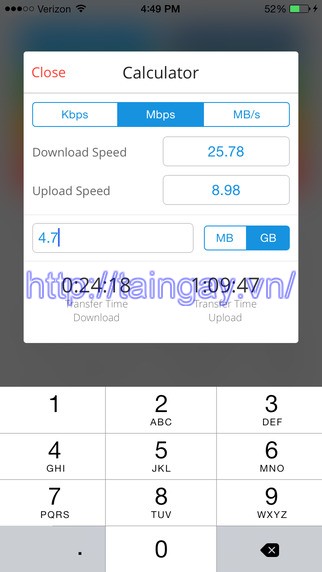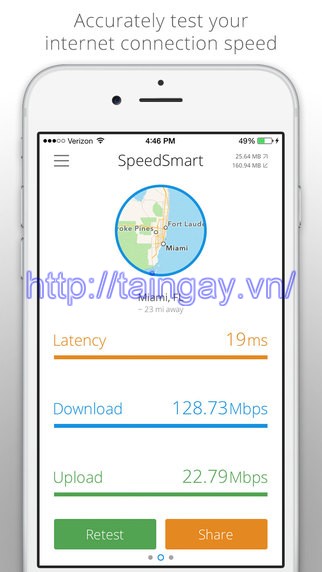 SpeedSmart as a tool to test network speed optimization, are used to assess the quality of WiFi or cellular network on the iPhone, iPod Touch or your iPad. With more than 60 locations around the world, you'll have the test results accurately in less than 30 seconds.
It's correct
Using formulas intelligent speed, allowing adjustment for the most accurate results for any type of connection.
Over 60 servers
Are distributed worldwide and used to test the speed of different types of networks.
Easy Sharing
Indicates how fast your network on Twitter, Facebook or email to family and friends.
Follow
Detailed History to track the results of previous experiments, help you easily determine which network fast, slow network and decision making rational use.