MY CONTACTS BACKUP FOR IOS - PHONEBOOK BACKUP IPHONE / IPAD
My Contacts Backup for iOS is a backup software free phone book for iPhone and iPad.
More than 1 million iPhone users already trust using this application for backup purposes contacts in your phonebook.
My Contacts Backup feature does not need login capability, no need to sign up for an account, no need to activate the account, users simply send your contacts in your general format and others through the application letter electronic.
My Contacts Backup function to copy contacts, or simply transfer your contacts in a convenient and simple way that any device can read.
My Contacts Backup is the easiest tool to backup and restore contacts from mobile devices, without the help of computers or synchronization functions. Users can backup all your contacts with just one simple touch and sent via e-mail attachments in .vcf file format. Complete contact easily restored anytime by opening .vcf file in the mailbox.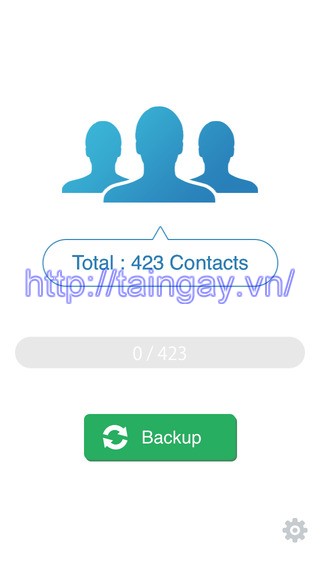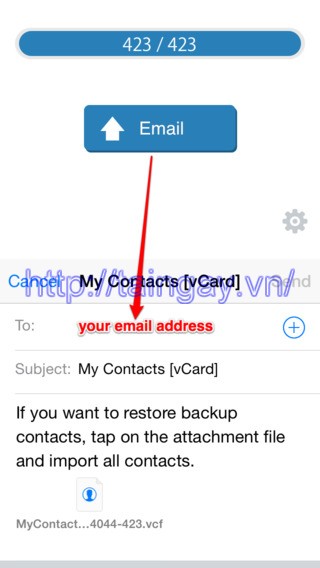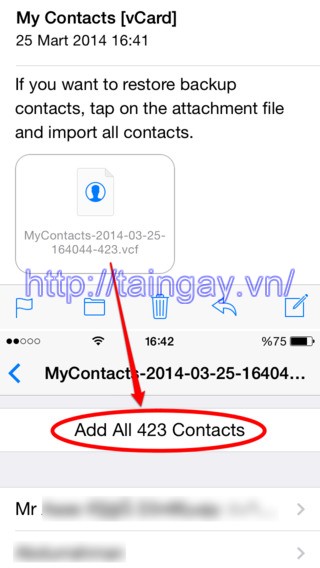 KEY FEATURES OF MY CONTACTS BACKUP
Backup offline: no need to synchronize with any server, users simply send files via E-mail backup
Easily restore your contacts: do not use any other application to restore the backup file, users simply click the .vcf file backup in client mail iPhone, iPod Touch and iPad
Easily transfer contacts between iOS devices using email client
Backup contacts as VCF (vCard) or export contacts as a CSV file (Excel)
Delete all the contacts in the phonebook
Backups restricted VCF maximum of 500 contacts. Users need to download the Pro version for backup charge unlimited contacts
Important note: After sending the backup file (.vcf) for themselves, users should check your inbox to see if the message was sent and contained no backup file as an attachment no. In one case number, e-mail providers to block attachments if the file size is too large. In this case, users can try with other email accounts to send the backup file, or upgrade to the Pro version directly save the backup file to the computer via WiFi Download option.
Upgrade to the Pro version with these features:
No advertising (not Admob or iAd)
Reminder (week or month)
Supports file sharing via iTunes
Support backup file download via WiFi
Remove contact Repeater
Export multiple files .vcf