DOWNLOAD HELLO - CALLER ID & BLOCKING - APPLICATION OF INTELLIGENT CALL OF FACEBOOK
You constantly get calls disturb or tease from some people you've befriended on Facebook or whether it is someone you do not know who? You've lost touch with some friends or family members ... because phone numbers are not stored in your contacts, or even if you do lose your phone? What do you do?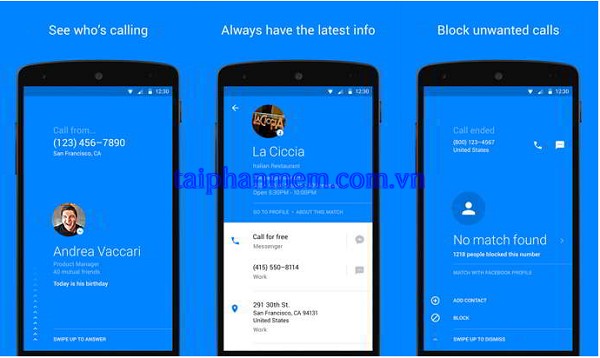 Hello - Caller ID & Blocking for Android is a messaging app, free phone calls and Facebook's new is released for testing in some countries like the US, Brazil and Nigeria, but will very shortly it will appearance and is used in Vietnam, and learn the information related to this new Facebook app yet!
Hello - Caller ID & Blocking will make your phone become smarter with powerful features and outstanding, this application is very interesting on chat application directory, messaging Google calling Play. Hello Android was built from the Messenger app brings users the necessary information about someone you met on Facebook when they call you, or even block unwanted calls from the Some blocked and searching of business. With automatic caller identification with name and image display representative will help you easily know who it is, even if the user does not have their phone number, but he must not change security settings The default allows users to search their phone number.
With messaging applications, this new call to stay in touch with friends even if infrequent contact becomes easier when you just call them directly when logging into Hello - Caller ID & Blocking without asking for phone numbers from others.
THE NEW FEATURES IN THE UPDATED APPLICATION ON ANDROID HELLO
Fixed some minor issues but on android Hello happened on some Samsung devices like the Note 4.
Sound system to make the black instead of green in Lollipop was amended.
Was able to connect more with a 0 in front of a couple of phone numbers in Brazil.
Modify and upgrade the small errors that users reflect.
KEY FEATURES OF CALLING, MESSAGING FREE ON ANDROID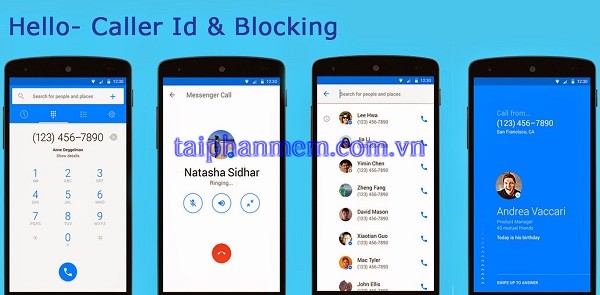 It is possible to know who and the preliminary information about who is calling you even if your phone number is not saved in your phonebook.
Easily block unwanted phone number.
Automatically blocks calls from the phone number is blocked by many others.
Search for contacts, people, and places on Facebook without switching application.
Always update the latest information about your contacts, including photos and birthday representative.
Open a Facebook profile or page with just one touch.
Calling and texting free with Messenger.
Call, add and edit contact - similar to what you've done over the phone.