ABOUT TEAMVIEWER FOR MAC
TeamViewer software supports remote computer control, connected to any PC or server around the world, through you enter the ID and password of the machine to connect, manipulate and share data via File Transfer utility.
TeamViewer for Mac version was finally completed. This version enables online meetings, presentations up to 25 participants, VoIP and video.
KEY FEATURES OF TEAMVIEWER: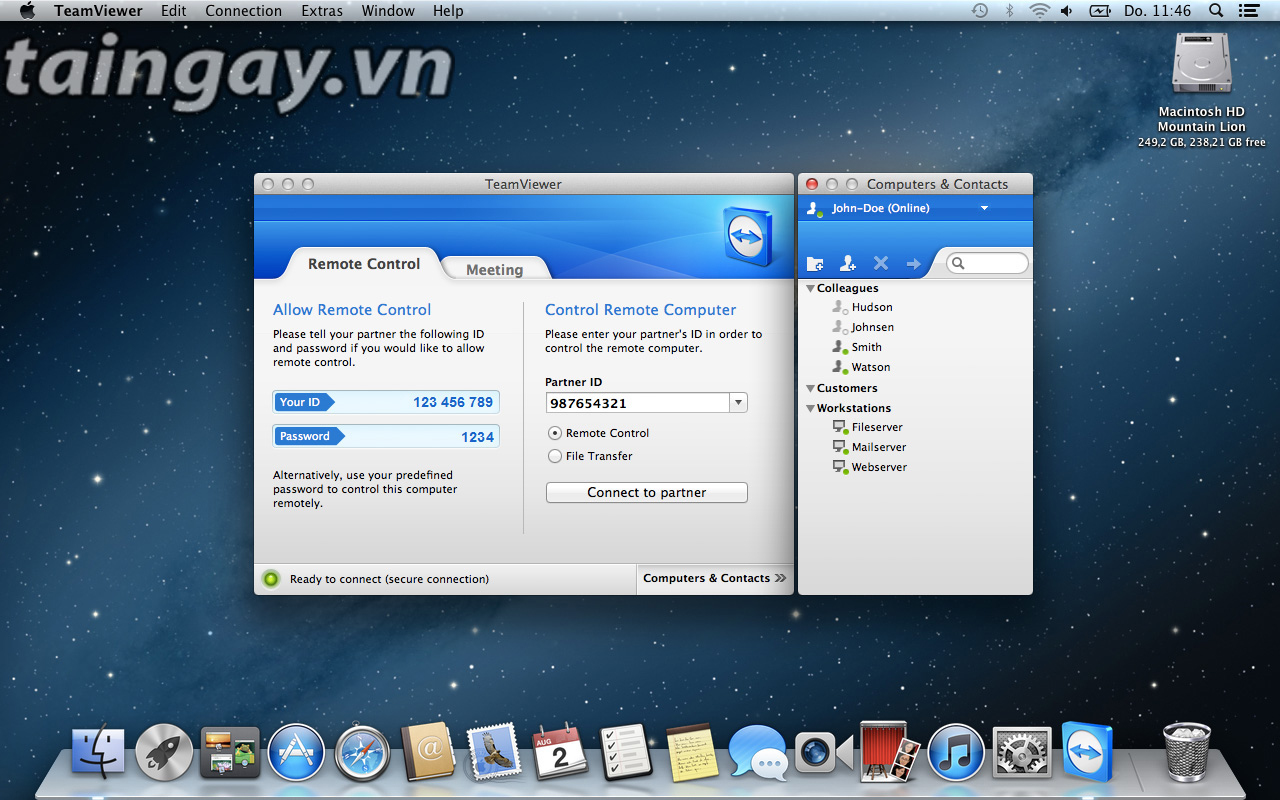 A solution for all
While competitors offer different packages for the support of management, training, and business remote (and Pay ...) TeamViewer is the perfect solution for everything you need: TeamViewer includes all in one simple package with affordable prices.
Managing remote servers automatically
TeamViewer can be used to control automatic machine and server. Service installations even allow system startup and reconnect remotely.
Easy file transfer
TeamViewer functions with integrated file transfer that allows you to copy files and folders to or from a remote partner - also operate behind a firewall.
Highest safety standards
TeamViewer is extremely secure solution. All versions feature completely channel data safe with encryption key exchange and AES sessions (256 bits), the same safety standards used by https / SSL.
Display online status
The members of your team in different places? You need to introduce your screen or to work with your partner share a document? In the TeamViewer partner list, you can see who is present and connected to them in just one click.
Remote support without installation
With TeamViewer you can remotely control any computer anywhere via the Internet. No installation required, just run the application on both sides and connect - even through firewalls.
Presentation of products, solutions and services remotely
TeamViewer lets you display your screen with partners. Share live demos, products and presentations over the Internet within seconds.
Activities are behind firewalls
Major difficulties in using remote control software are firewalls and blocked ports, and NAT routing for local IP addresses.
If you use TeamViewer you do not need to worry about firewalls: TeamViewer will find a router for your partner.
Access via browser
You are on the move and want to control a remote computer? Why do not you try using TeamViewer Web Connector? Solutions through pure html and flash can be used for almost any of the Browser and operating system.
Performance Optimization
Whether you have a network connection or LAN networking, TeamViewer optimizes display quality and speed based on the type of your network connection.