Found 2 application with keyword Gmail....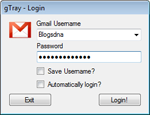 Publisher: Alastair Pitts
gTray Beta , normal way , when you want to check your Gmail account to see if new emails sent to or not , you usually have to open up your browser , then visit the home page and declare the names, passwords then log into your mail box to check
FREE

Free

1,347

downloads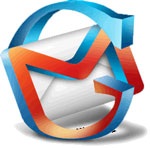 Publisher: Gmail Notifier
Gmail Notifier , With Gmail Notifier , Gmail users will be updated on mailboxes quickly and directly from your desktop.
FREE

Free

1,595

downloads
Using Google for Searching...