MP3DIRECTCUT - FREE MUSIC SOFTWARE CUTS
music cutter software mp3DirectCut is completely free, offers many features editing and audio editing utility. Additionally, you can also copy or paste a piece of music from a different sound file into the music available, without compromising the quality of the original file.
Moreover, the program also ensures the sound quality of output files as the quality of the original file by not re-encoded.mp3DirectCut integrated recorder directly to create MP3 files from audio input file. Using Cue sheets, the tool will detect hints pause or automatically so that you can easily split long files.
IMPROVEMENTS IN THE NEW VERSION OF MP3DIRECTCUT 2:20
Support cut favorite tracks from a complete song.
Supported audio formats: MP3, WAV, AAC.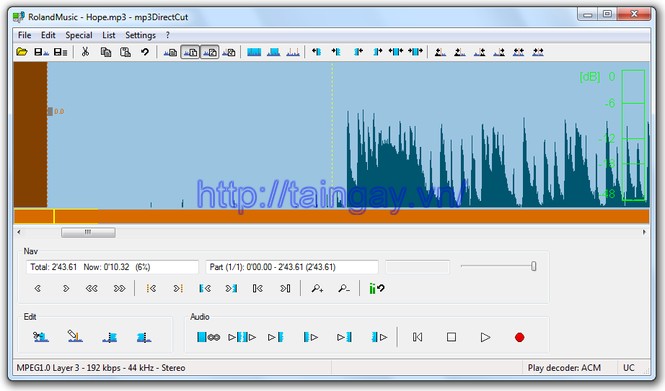 Download mp3DirectCut - Software cut free MP3 ringtones.
mp3DirectCut is a utility that uses very little system resources and computer memory, so can run on all computers with low profile.The tool also makes it easy to cut out only the desired audio track in an MP3, remove the details you deem unnecessary, increase / decrease the speed of the music and original volume, automated balance sound, editing of music labels and many other advanced features.
KEY FEATURES OF MP3DIRECTCUT
Cut, copy, paste snippets quickly.
Changing the sound volume, noise, standardization.
MP3 recording with ACM or Lame encoder.
Redirect MPEG quickly and easily.
Support for Layer 2 (sound DVD / DVB).
CUE sheet support.
Support for AAC.
Batch processing.
Support ID3 tag editing 1.1, unchanged tag D3 2.
Record high speeds.
Using the command line.
Unicode support.
See screenshot.