WINDOWS LIVE MOVIE MAKER 2012 - FREE SOFTWARE FILMMAKERS
Windows Live Movie Maker 2012 software free filmmakers and professionals - a product of Microsoft.
In essence, Windows Live Movie Maker 2012 is a simple tool, easy to use video editor that allows users to organize photos, video, music and special effects to create a slide show captured content eye with just a few simple steps.
As part of the Windows Live Essentials, Windows Live Movie Maker is installed through Essentials installation package. In addition, users should note that this version only works on Windows Vista and Windows 7.
Windows Live Movie Maker is a simple tool and easy to use. All that users have to do is import the photos and videos you want to use, choose background music and add some desired title. The program shows the additional button on the title bar, allowing users to access the configuration settings for music, video and text, respectively. For related effects, users have many options like transitions, animation, zoom in / zoom out and the unique visual effects.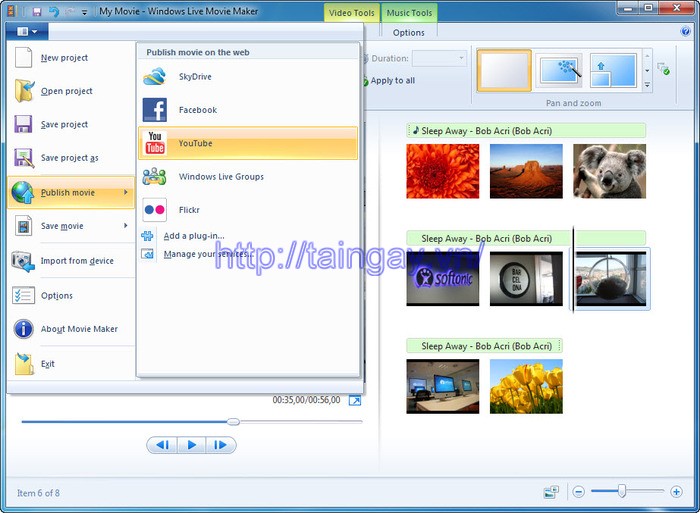 When finished clips to your liking, you can save video in the formats and sizes depending on where you plan to use it on computer, high-definition TV screens, mobile devices mobile, instant messaging ... Windows Live Movie Maker also includes the option to upload videos directly to YouTube, Facebook, SkyDrive and Flickr. The only drawback is Windows Live Movie Maker only supports video up to a single format: WMV.
With Windows Live Movie Maker, users can create beautiful works with photos and your favorite videos and share them with anyone.
KEY FEATURES OF WINDOWS LIVE MOVIE MAKER:
Design eye-catching user interface
Easy to use, does not require complex skills
Allow Import photos and videos
Many transitions, animations and pictures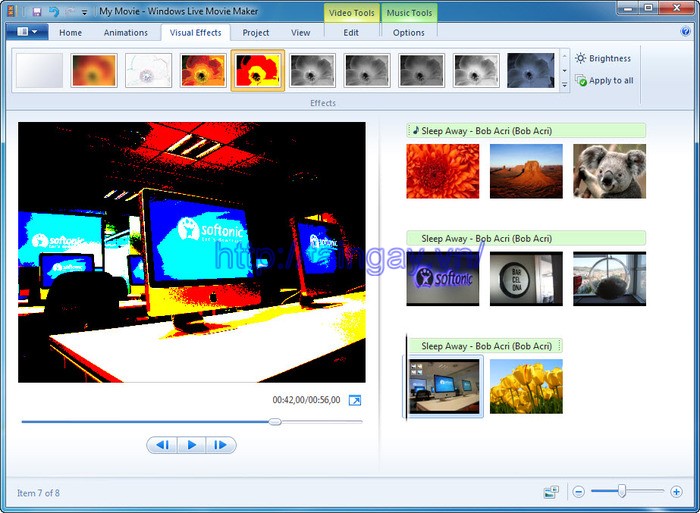 System requirements for installing Windows Live Essentials 2012:
Operating System: Windows 7 32 or 64 bit version, Windows 8 Release Preview 32 or 64 bit or Windows Server 2008 R2
Processor: 1.6 GHz or higher, supports SSE2. SSE2 support for Pentium 4 processor or later, and AMD K8 processor or higher
Memory: 1 GB or more RAM
Minimum resolution: 1024 × 576
Internet connection: Online services require dial-up Internet access or high-speed (single supply - internal cost or distance charges may apply). Encourage the use of high-speed Internet access to use some features
Graphics card: Windows Movie Maker requires graphics card supports DirectX 10 or higher and Shader Model 2 or higher
Additional Requirements:
Windows Essentials Some programs have additional requirements.
Windows Photo Gallery and Movie Maker require some features of DirectX 10 - requires installation if not found in the computer.
Video chat software required webcam, microphone, speakers or headset, and high-speed Internet connection. HD video chat requires a compatible HD webcam relative and 2.0 GHz processor or higher. Webcam HD also other system requirements.