Download Malwarebytes Anti-Malware for Windows
Malwarebytes Anti-Malware's industry-leading scanner detects and removes malware like worms, Trojans, rootkits, rogues, spyware, and more. All you have to do is launch Malwarebytes Anti-Malware and run a scan. It's that simple. Or if you want even better protection, consider Malwarebytes Anti-Malware Premium and its instant real-time scanner that automatically prevents malware and websites from infecting your PC. Either way you're crushing malware and foiling hackers. According to OPSWAT, Malwarebytes Anti-Malware offline installer for PC is the most popular security product installed by users.
What is Malwarebytes 3.0?
"It combines all of our malware-fighting technologies into one program that scans for threats 4x faster. It improves on, and replaces, our trusted Malwarebytes Anti-Malware product. Working together, all of our technologies can completely replace a customer's antivirus solution, making it obsolete."
Malwarebytes Anti-Malware Features:
Anti-malware/Anti-spyware
Heuristic and behavioral detection engine recognizes not only known malware families but also zero-day malware that evades signature-based technology.
Anti-ransomware
Specialized behavior-monitoring technology watches application processes for suspicious activity associated with ransomware. (Signature-less)
Anti-exploit
Four layers, including application-hardening protection, work together to block exploits instantly. (Signature-less)
Anti-rootkit
Dedicated technology removes rootkits and repairs files damaged by them.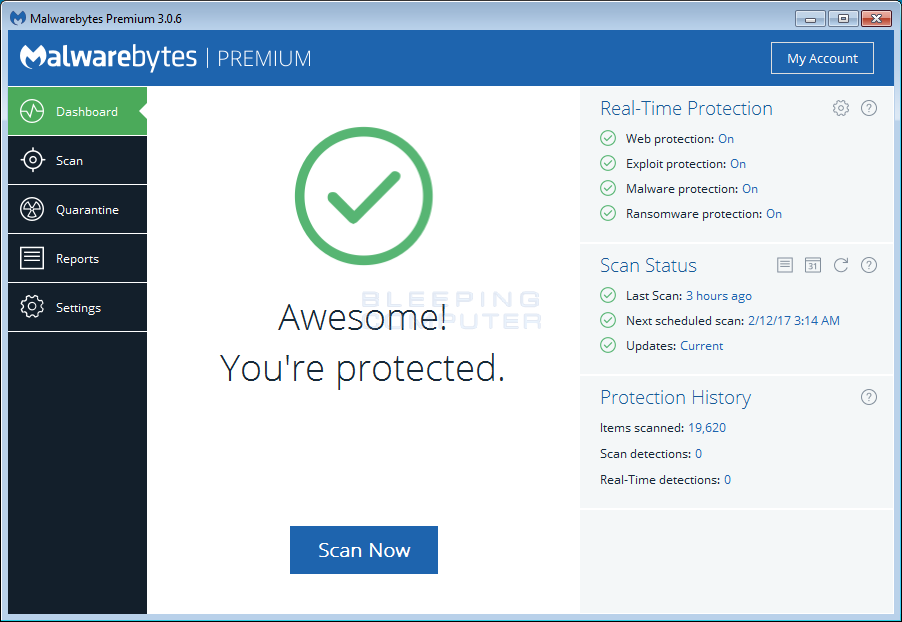 Malicious website protection
Verifies inbound and outbound traffic against a database of known malicious IP addresses, domains, and URLs. Self-protection technology: Driver-level protection against malware tampering.
Three scan modes
Hyper Scan, Threat Scan, and Custom Scan offer configurable scan depth. Automatic scan scheduler: Schedule scans and database updates for convenient times.
Note: Features such as Real-time protection, Malicious website blocking, Malwarebytes Chameleon technology are disabled after 14 days. Certain features are disabled.
See more: