Adobe Reader XI - Tools best PDF reader
Adobe Reader is free software and reliable to support the user to view, print, and annotate on PDF documents. This is the only PDF file viewer that can open and interact with all types of PDF content, including forms and multimedia. Adobe Reader includes new document viewing options, advanced support, giving you the ability to work faster with PDF files and many other new features to help secure and more stable than when using PDF files .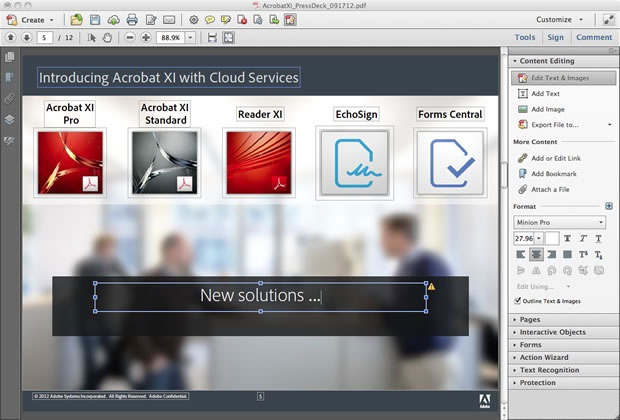 NEW FEATURES
Create or export PDF to Word and Excel online.
OS X Mountain Lion support and Windows 8 with new touch mode is optimized for tablets.
Archive files on Acrobat.com to access from multiple devices.
Providing full featured add comments include: insert text, seals, attachments, recordings as well as drawings of lines, arrows, shapes and annotations.
SOME KEY FEATURES OF ADOBE READER - READ PDF SOFTWARE
View and annotate on PDF documents
With Adobe Reader 11, you can perform multiple actions rather than open and view PDF files. Now, it's easy to add text to your document through the full commenting tools.
Write a comment using PDF Annotator
Adobe Reader 11 is designed with a full commenting tools. So you can add notes, highlight text and use lines, shapes, stamps and tools typing to add a comment at any location on your PDF document.
Read the document in the way you want
You are allowed to choose methods appropriate to read the content on the screen. Besides, you can use the familiar keyboard shortcuts like print, zoom, and search within the browser.
Search words and phrases
You can search one or multiple PDF files at the same time to find out all the words or phrases needed - whether it is in page content, annotations, bookmarks, form or data field filled multi vehicle.
Protection system
Support protected software and your data from harmful code, while not allowing other users to view your private information by applying Protected Mode.
Complete, sign and submit PDF forms
Use Reader 11 to complete, sign and return the form within few minutes PDF and store digital copies of your profile.
Fill forms
Say goodbye to paper forms. Just enter your feedback on this PDF form or click through and fill out the form fields. Then, hosting and validation to complete.
Signature in PDF form
When you need to sign PDF forms, use your electronic signature. You just type in, add handwritten signature, or import images scanned his signature.
Get the form signed by others
Email PDF forms signed by you or send it to others to sign electronically through the use of online services from within Reader Adobe EchoSign 11. Just open a free account or charge account.
Access the PDF document credible way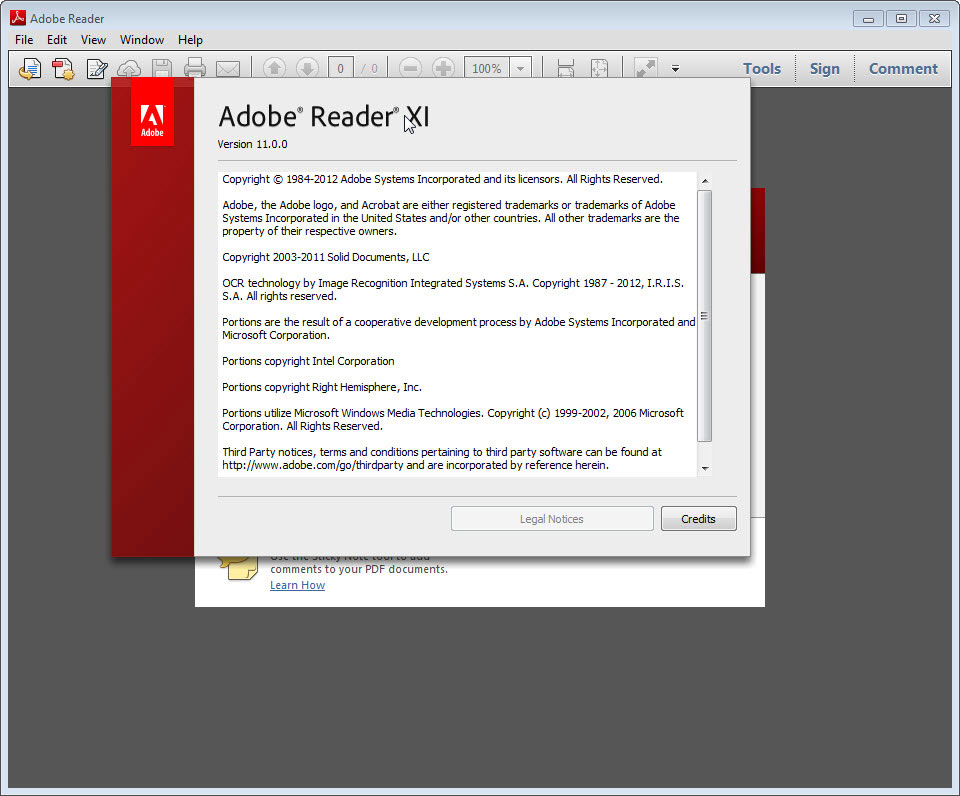 Use the leading PDF viewer to open and interact with all PDF files across multiple platforms and different operating systems and devices iPad, iPhone or your Android.
Open any PDF file
You can open and view all types of content in PDF files, including documents, drawings, email messages, spreadsheets, and presentations.
View a multimedia message
Adobe Reader 11 allows you to open and interact with all PDF Portfolio, as well as video, audio, CAD designs and geographical maps have been converted to PDF.
Get the mobile app
Using Adobe Reader Mobile app to open and use all types of PDF files from smartphones iPad, iPhone, or Android to your computer like.
Choice of access options
Using screen-reading tools and other assistive technology to interact with PDF files. You can instruct Adobe Reader to read aloud or 11 changes the reading order of the columns.
Perform more work with PDF services
Just one click, Adobe Reader 11 will take you to Adobe's online services. You can open a free account or pay to create PDF, PDF moved into Microsoft Office files or build PDF forms can fill in a few minutes.
Choose between a variety of languages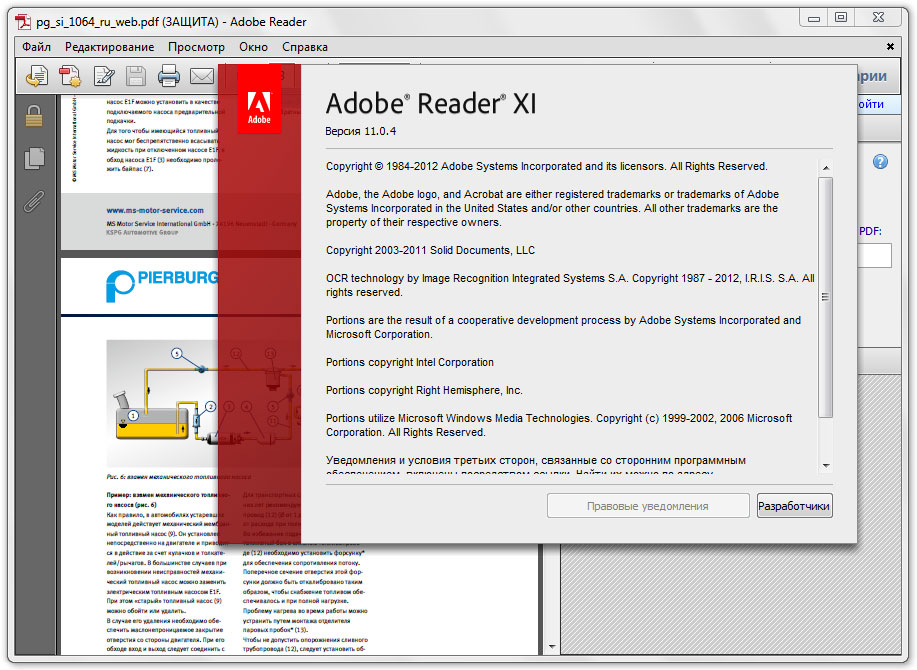 Installing different languages ??simultaneously, then switch between them using the Multilingual User Interface. Interfaces help change the appropriate language quickly.
Create PDF online
With Adobe CreatePDF online service, you can convert and merge documents, spreadsheets, and image files into a single PDF file that other people can see when using the free Reader.
Convert PDF to Microsoft Word or Excel
To avoid having to re-enter, use the online service to convert Adobe PDF file ExportPDF your Word or Excel file into the fonts, tables and formatting remain unchanged.
Signed and submitted online
Eliminates the need of signature in ink on paper. You can quickly sign documents and send them to others for approval signatures, and track them online using Adobe EchoSign service.
Construction can fill forms online
With online services Adobe FormsCentral, you can build separate forms in minutes by customizing the professional model or design from the manuscript.
Management software and standards compliant
Adobe Reader 11 allows you to easily manage and deploy the update to Adobe & Microsoft tools industry standards. Moreover, you can also extend the functionality Reader using software development tools (SDK), Adobe Acrobat.
Easy Deployment
Manage Reader deployments through the use of IT resources, including the Adobe Customization Wizard, Microsoft System Center Configuration Manager (SCCM), Microsoft System Center Updates Publisher (SCUP), ...
Security Compliance Management
Support for digital signatures Kerberos, SOAP / WSDL, XSD, XML W3C, 256-bit AES encryption, the OASIS WS-Security, XML, HTTP / HTTPS, RSA, and ECMAScript for XML (E4X) in the communication tools JavaScript care.
Extending Reader functionality
You can use the Acrobat software development kit (SDK) is free to extend the functionality of Reader.
SYSTEM REQUIREMENTS:
Processor : 1.3 GHz or faster.
RAM : 256 MB (512 MB ??recommended).
Available Hard Drive : 320 MB.
Screen resolution : 1024x768.
Browser :
Note : For 64-bit versions of Windows Server 2003 R2 and Windows XP (with Service Pack 2) Requires Microsoft Update.
More information on Adobe Reader XI
REVIEW SOFTWARE ADOBE READER PDF FILE READER
We can say Adobe Reader software is one of the best PDF reader currently supports both on computers and mobile devices. With a friendly user interface, easy to use is suitable for beginners with this software.
Advantage:
Read any PDF file.
Maybe notes into PDF files with ease.
Compatible with many different operating systems.
Free software.
Disadvantages:
Speed ??loading is slow.
Occupy many system resources.