To introduce
Normally, if you can use Yahoo! Messenger chat when new Yahoo! mail, you will be promptly notified it. But if you are not interested and do not use chat programs that want to know whether or not you have new messages, you can do this using the Firefox browser.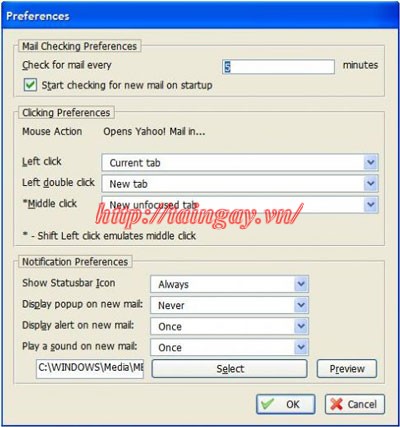 Guide
After installing and running the Firefox, you will see an envelope icon in the lower right corner letter browser window.
Next, you need to provide mailbox account you want to use in Yahoo! Mail Login dialog box, including mailbox name (Yahoo! username) and password (Yahoo! password). To account are stored without having to retype each time in Firefox, you check the box Remember password. Finally click Login.
Later, whenever a new message, you will see an envelope icon letter will light up, and you'll see the new letter appear next. To sign in and view the message, simply double click the envelope icon and alone.
The default is every 5 minutes you will be notified of new messages or not. If you want to change again this time, please click the envelope icon, choose Preferences, enter a different number of minutes in the box Check for mail every then OK to complete. If you wish to check immediately whether new messages or require changes to account information, then from the context menu, select Check Now or select Change Username / Password.